Baldwin City Council moves forward with grant application to upgrade Santa Fe Depot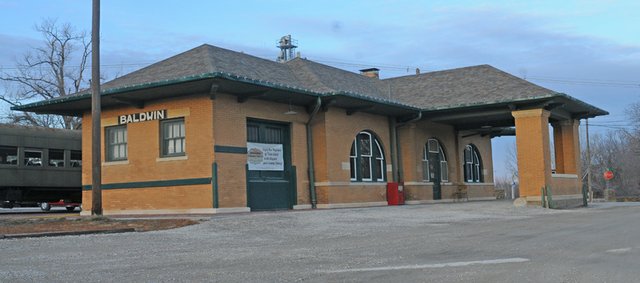 The Baldwin City Council agreed to go forward Tuesday with a grant application that would make improvements to the grounds at the Santa Fe Depot.
The council approved a resolution seeking $140,000 from a Kansas Department of Transportation-administered federal transportation alternatives grant for improvements to the city owned property on High Street. To make the grant more attractive, the city and partners will pay for $70,000 of the project's estimated $210,000 construction cost.
The Santa Fe Trails Historical Society, Midland Railway and the Kansas Belle Dinner Train agreed to share in a more ambitious $290,000 grant application made a year ago. City Administrator Chris Lowe said those partners have been approached again about contributing a total of $30,000 to the local match but nothing formal was yet in place.
the scope of this year's project was scaled back, so it was not yet known who would partner with the city in the application or how much they would contribute.
The project would:
• Extend the brick train boarding platform and install a platform shelter.
• Add additional exterior lighting.
• Install three disability parking spaces.
• Add landscaping to the depot grounds.
Lowe said it was thought the scaled-back grant and a switch of grant categories from historic preservation to environmental would make the grant application more competitive.
Should the grant be approved, the city would be responsible for any additional construction engineering costs.