Baldwin blows out winless Anderson County in first round of tournament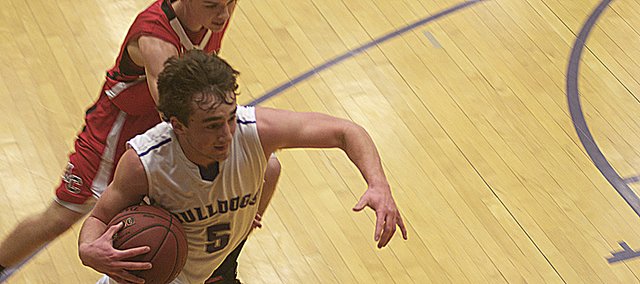 The Baldwin High School student body's chants Tuesday for reserve Ian Kirk to enter the contest with the start of the fourth quarter was a sign for how thoroughly the Bulldogs dominated Anderson County in their opening game of the Baldwin Invitational Tournament.
Baldwin coach Dustin Leochner would eventually please the students by sending Kirk and other reserves into the waning minutes of the contest the Bulldogs won, 68-37. The timing of their court appearances provided the only second-half drama in a game that was decided when Baldwin raced to a 19-3 lead at the end of the first quarter.
The top-seeded Bulldogs used their rebounding strength to overwhelm winless Anderson County, scoring on offensive rebounds and keying fast breaks off the defensive glass.
"Chad (Berg) and Cornell (Brown) were great at attacking the basket and distributing the ball," Leochner said. "It didn't matter which one was at point guard, they both aggressively attacked the basket."
With the win, Baldwin will play Bonner Springs in the tournament's second round at 8:30 p.m. Friday. The two teams have met in the tournament finals Leochner's two years as BHS coach with Baldwin winning last year and Bonner Spring claiming the title in 2012.
"I think we've played them five times in a row in the tournament with three or four of those in the championship," the coach said. "It's a fun little rivalry within the tournament. "
Bonner Springs matches Baldwin's athleticism but is smaller, Leochner said. The Braves will attempt to spread the floor to take advantage of their quickness, he said.