Baldwin High School to treat special needs students to Mardi Gras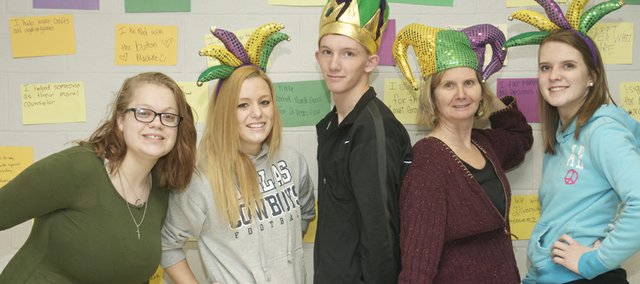 Baldwin High School senior Sydney Roller doesn't need a lesson in diversity to reach out to special needs schoolmates.
"My best friend growing up had a brother with Down Syndrome, so for me it's real easy," she said. "Last year, I took a boy with Down Syndrome as my prom date. This fall, I got a group together to take a group of life skills students to the homecoming dance."
BHS Mardi Gras schedule
9:30 a.m. All-school assembly with guest speaker BHS junior Molly Odgen and her parents on her comeback from a life-threatening stroke and a typical day in her life.
10:45 a.m. Zydeco music and dancing in the BHS band room
10:45 a.m. and 1:30 p.m. Displays from businesses owned by or that support individuals with disabilities.
11:15 a.m. Cajun lunch prepared by the BHS culinary arts team.
Noon to 1:45 p.m. Games and activities in commons and BHS band room
1:30 p.m. Dixieland jazz parade
Baldwin High School special education teacher Laura Beaulieu said Roller was a "super volunteer," who has taken the role this year as teacher's aide in the life skills class.
Her involvement in the life skills class stemmed from Roller's involvement last year with the Mardi Gras diversity awareness day, Beaulieu said.
"When she started helping with Mardi Gras last year, she started going to life skills class," Beaulieu said. "She started helping in so many ways — helping students get their books, with their lessons or walking with them to classes. She's really gone above and beyond."
It is just one example of how Baldwin High School's annual Mardi Gras diversity day creates new opportunities for students to interact with and befriend special needs students, Beaulieu said.
At Baldwin High School, Mardi Gras is not a hedonistic party before the start of Lent, but a day in which the school recognizes and celebrates students with special needs.
Beaulieu started the Mardi Gras, using money she inherited from her parents. It was a way to honor them for advocating for the educational needs of her sister, who had mild cerebral palsy, in the days before special education, she said. In the six years since, the school's diversity day has grown and now special needs students from Lawrence, Free State, Eudora, Ottawa, Wellsville, Gardner and De Soto high schools attend.
The school will have its sixth Mardi Gras diversity awareness day Thursday at the school. Since its introduction in 2009, the event Beaulieu and school vocational coordinator Sheila Vander Tuig organize has become part of the school's fabric.
"Our Spanish teacher told me when she introduced the term Mardi Gras, the kids said, 'Oh yeah, that's diversity awareness day,'" Beaulieu said.
That strong association was developed from student participation. Students not only present most of the day's activities but spend months planning for the event.
"It's been a tremendous group effort," Beaulieu said. "We have so many students wanting to help. We don't have to force anyone."
This year, the school's culinary team will prepare and serve a Cajun lunch, while other students will oversee afternoon games and activities such as face painting. The day will conclude with all the guests and the student body marching through the school's hallway as the high school band plays "When the Saints Come Marching Home."
Students have also played a role in securing help from the community. Beaulieu said the Baldwin City Lions Club donated $150 to the event after senior Austin Quick spoke to the group. Other community contributions to the event included a $750 grant from the Baldwin Education Foundation and the American Legion making available the use of a button-making machine.
The planning and preparations helps spread the message of diversity awareness beyond a single-day event, Beaulieu said.
Sophomore Kambree Judy, who is on the decoration committee for a second year, said the experience influenced her career choice.
"I kind of changed after helping last year," she said. "After I graduate from high school, I want to help people with disabilities. I kind of opened up to other people."