Baldwin sets new team mark at Bobcat Classic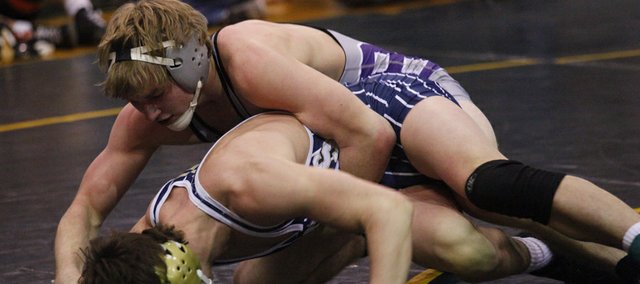 Baldwin wrestlers earned a 12th-place finish Friday and Saturday competing in their largest and toughest meet of the year at the Bobcat Classic at Basehor-Linwood High School.
Baldwin results
BALDWIN RESULTS
106-Levi Green, 0-2
113-Ben Morgenstern, 0-2
126-Thomas Lisher, 4-1, 3rd place
138-Tucker Clark, 4-3, 6th place
145-Jon Pratt, 2-2
160-Owen Tuckfield, 5-2, 7th place
195-Mario Garcia, 4-1, 3rd place
220-Tiler Garcia, 5-2, 4th place
The 35-team meet drew schools from five states. Twelve of the teams for Kansas were ranked, while four of the five schools that traveled from Colorado, Iowa, Missouri and Oklahoma were ranked in their state polls.
"In this tournament, the wrestlers are usually in tough, close matches, which tremendously helps them for those type of matches later in the season," Baldwin coach Kit Harris said.
Breaking down the results further, Baldwin was third among the 15 Kansas 4A teams at the meet, despite not being at full strength at the meet.
The Bulldogs set a new team standard at the meet when five of the team's wrestlers at the Bobcat Classic placed. The mark eclipsed Baldwin's previous high of four, a number the team had achieved twice in the past.
"Heading into the 'in-or-out' round on Saturday morning, Baldwin had to win all three to achieve this goal," Harris said. "And that they did, as senior Tucker Clark won a tough 2-1 decision over a St. James, sophomore. Owen Tuckfield won a 3-1 overtime match over the No. 7 seed from Tonganoxie, and junior Tiler Garcia won by fall over Columbus. They joined freshman Thomas Lisher and junior Mario Garcia who had already secured medals as they wrestled their way into the semi-finals the night before."
Junior Jon Pratt was 2-2 and was two rounds short of placing, Harris said. Sophomore Ben Morgenstern and freshman Levi Green each wrestled hard but dropped two hard-fought matches.
Overall, Baldwin went 24-15 in matches wrestled, with seven wins by fall.
Baldwin will next be in action tonight at Burlington. The team will then have eight days off before returning wrestling at home Friday, Jan. 31, with the Baldwin Duals. The Baldwin Invitational Tournament will follow on Feb. 1.