Baldwin girls suffer tough loss at Spring Hill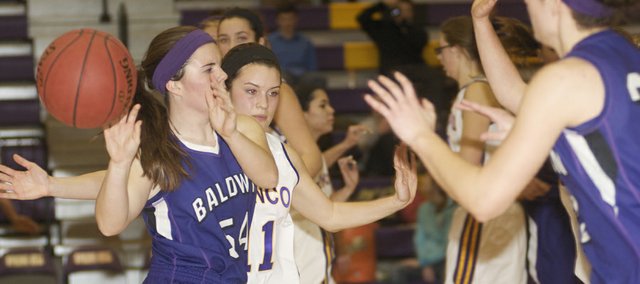 Spring Hill — The Baldwin High School girls lost a tough back-and-forth game to Spring Hill on Friday, 52-50, when the Broncos outscored the Bulldogs 13 to 3 in the game's final three minutes.
Baldwin had a 47-39 lead with 3:18 remaining before Spring Hill made its closing charge. Bronco guard Hailey Jones tied the game with a three-pointer 2 foot beyond the arc with 12 seconds to play. She then sank two winning free throws with 4.6 to play after stealing the inbounds pass and driving to the basket.
Baldwin called timeout with the ball to its side of the floor with .4 seconds left. On the ensuing inbounds play, junior Maddie Ogle was unable to connect on a quick shot under the basket.
The loss was made tougher for the Bulldogs because they erased a 10-point first half lead to seemingly take charge of the game behind Ogle's 17 points.
"We didn't do a lot of things we wanted to do," Baldwin coach Bob Martin said. "We just didn't close it out."
Spring Hill scored 14-straight points in the first quarter to take a 14-4 lead. Baldwin slowly chipped away at that advantage until senior Hailey Cope's three-pointer gave the Bulldogs the lead at 27-25 with 5:10 remaining in the third quarter.
Baldwin opened the fourth quarter with a seven-point run, taking a 40-35 advantage with 5:18 to play.
Baldwin fell to 5-3 with the loss and 3-2 in Frontier League play. Spring Hill is 4-5 now overall and 2-3 in the league.
The Bulldogs will have a week to think about the tough loss as they take a break with the boys Baldwin Invitational Tournament. They play Friday in a non-league game at Osawatomie.
Spring Hill 52, Baldwin 50
Spring Hill 4-5 (2-3)
Baldwin 5-3 (3-2)
Baldwin scoring: Maddie Ogle 17, Madeline Nuefeld 2, Katie Jones 14, Kyna Smith 2, Alexia Stein 9, Hailey Cope 8
Spring Hill: Lilly Smith 11, Sydney Cluck 10, Jamie Hoffman 2, Sidney Weaver 5, Annie Vanzant 6, Abby Mikesell 9, Shelby Baker 9