Baldwin boys rebound from season's first loss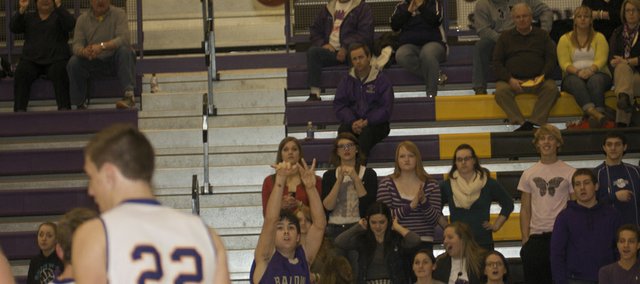 Spring Hill — The Baldwin boys basketball team on Friday rebounded from its first loss of the season to earn a road victory against Frontier League foe Spring Hill, 66-45.
Stung at home Tuesday against Ottawa, the Bulldogs led from the opening tip against the Broncos. Senior point guard Cornell Brown led a balanced Baldwin scoring attack with 17 points while seniors Michael Burton, Quinn Twombly and Luke Fursman added inside scoring the 12, 10 and 10 points, respectively.
Baldwin led 11-4 at the end of the first quarter and 33-19 at the half.
"It was a nice way to bounce back after not playing all that well Tuesday and against a good team on the road," said Baldwin coach Dustin Leochner, noting Spring Hill was 3-0 in Frontier League play entering the night. "I think we had good focus offensively all night."
The coach praised the job of Fursman on the boards, especially in the second half.
The Bulldogs will play next week in the Baldwin Invitational Tournament as the No. 1 seed at 8:30 p.m. Tuesday against Anderson County. Should they win, they will play at 6:30 p.m. Friday against the winner of the Bonner Springs and Perry-Lecompton contest.
In the other half of the bracket, No. 2 seed Wellsville open Tuesday against Bishop Ward and No. 3 Augusta will play Kansas City Christian.
Baldwin 66, Spring Hill 45
Baldwin 8-1 (4-1) 11 22 12 21 – 66
Spring Hill 5-3 (3-1) 4 15 16 10 – 45
Baldwin scoring: Cornell Brown 17, Tim Craig 7, Austin Ward 1, Luke Fursman 10, Jackson Barth 3, Quinn Twombly 10
Spring Hill: Dan Hodge 7, Chris Bybee 3, Drew Cygan 10, Nick Reynolds 12, Chance Hollern 1 Ryker Johnson 11, Trevor Cluck 1