Friends remember Baldwin City's Mary Swan as 'joyful spirit'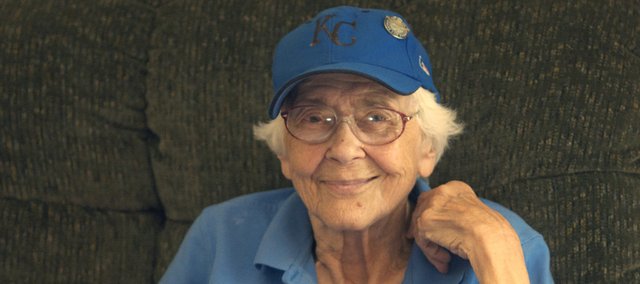 Friends remembered Mary Swan this week as a generous patron of local cultural efforts and generous in sharing good cheer to all those in her presence.
Swan died Monday at the age of 92.
"She never had a bad word to say about anyone," said Janet Venable. "I remember someone saying to her once that there had to be somebody she didn't like. Mary said. 'Well, I didn't like Hitler.'
"They broke the mold with her. She was perpetually happy, kind and caring. She was a grand lady."
The Swan family moved to Baldwin City in 1960 from New York state when Mary's husband, Tom, took a job at the Ives-Hartley Lumberyard with the understanding he would buy the business. It remained in the family's hands until it closed in 2002. When it closed, Swan supported its transformation into the Lumberyard Arts Center. She had also supported the Baldwin City Public Library, Baker University and Baldwin First United Methodist Church.
"I remember so well talking to Mary from the start of the Lumberyard project," said Sandy Cardens, Lumberyard Arts Center board member. "She was one of the first to step forward with a big donation that allowed us to move forward with the project."
The theater planned for the back of the building will be named Swan Theater in honor of Tom and Mary Swan, Cardens said.
"That theater and theater in general were very important to her," Cardens said. "She was one of the greatest audience members ever. She was such a joyful spirit."
Her daughter Susan Butell said Swan brought her love for theater with her from New York where she performed in community theater. In Baldwin City, she sang for decades in the Baldwin First United Methodist Church choir and performed in the religious plays the late playwright Don Mueller put on through Baker University.
Swan's love of theater and her response to it were well known among theater people at Baldwin High School and Baldwin City and Lawrence community theatres, Venable said.
"They would call to see when she was coming so they could get her front-row tickets," she said. "She was a wonderful audience. She loved to laugh, and she didn't care what people thought."
At 6-foot tall and with precise diction learned in her childhood home of Falls City, Neb., Swan was a graceful woman who could be prompted to break out into a tap dance, Venable said. She was a great cook, avid reader, birdwatcher and fervent baseball fan who continued last summer to attend Kansas City Royals' games. She maintained her positive, cheerful attitude even when receiving chemotherapy and radiation treatments after being diagnosed with cancer at 86, Venable said. Her cancer went into remission before returning this fall.
"When she was 86, they gave her three years," Venable said. "She said 'I'm 86. I'll take those three years.' She didn't worry about that clock ticking. She was a strong woman."