Baldwin girls win 3rd straight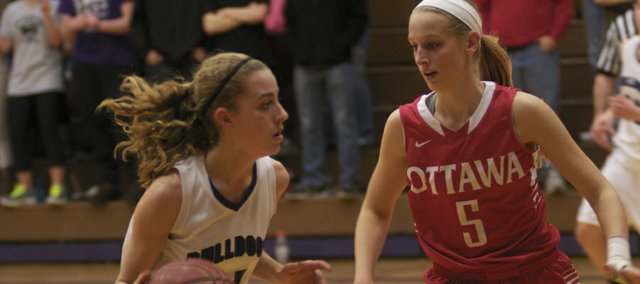 The Baldwin High School girls put themselves squarely in the Frontier League race with two home victories in the past week.
The Bulldogs used full-court pressure and an attacking half-court defense Tuesday to force multiple Ottawa first-half turnovers on their to a 46-32 Frontier League victory.
Entering in the second quarter with a 10-9 lead, Baldwin scored 11-straight points to separate from Ottawa. Meanwhile, the Cyclones scored only three points in the quarter as they struggled against Baldwin's defensive pressure. Baldwin headed to the locker room at halftime with a 24-12 lead.
"Our press has been very good," Baldwin coach Bob Martin said. "It allowed us to get away from them a little bit tonight. Our girls coming off the bench — Karina Steinke, Madeline Neufeld and Sierra Hall — have been very good at maintaining the pressure on the ball."
The defensive pressure wasn't all Martin liked about what he called a "solid" effort. The Bulldogs did a good job against a tough Ottawa defense, he said.
"They made us work for everything we got," he said. "Alexia (Stein) gave us some big points inside after a rough start."
The junior center led the Bulldogs in scoring with 12 points.
With the win, Baldwin improved to 6-2 on the season and 3-1 in Frontier League play. Ottawa is 3-3 overall and 1-3 in the league.
Baldwin will play a 6 p.m. Friday at Spring Hill, a team Martin said has the best center in the league. Next week, the girls will play have only one game at Osawatomie of while the focus turns to the boys Baldwin Invitation Tournament.
Martin said the mini-break and additional practice time will come at a good time for his team.
"It will give us a chance to get our legs back," he said. "We've been going at it pretty hard since we came back from break."
Baldwin 46, Ottawa 32
Baldwin 10 17 10 9 ¬– 46
Ottawa 9 3 12 8 ¬¬– 32
Baldwin scoring: Karina Steinke 2, Maddie Ogle 10, Madeline Neufeld 1, Katie Jones 9, Corey Valentine 6, Alexia Stein 12, Hailey Cope 6
Ottawa: Brynn Ferguson 4, Angel Natt 10, Brette Moore 8, Corie Fischer 10