Baldwin boys suffer season's first loss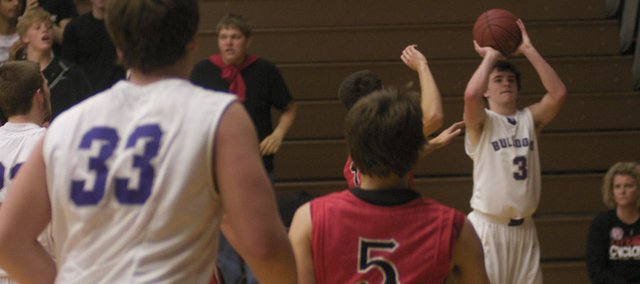 The Ottawa Cyclone boys scored the first nine points of the game Tuesday and never trailed as they handed Baldwin its first loss of the season, 51-44.
After the visitor's fast start, Baldwin spent the rest of the night reeling in the Cyclones, tying the game of five occasions, but each time the Cyclone rebuilt the lead.
Baldwin knotted the score a final time when Luke Fursman connected on a three-pointer with 2:52 remaining in the third quarter. Ottawa junior point guard Tyler Smith answered with a trey of his own on the Cyclones' next possession, giving Ottawa a 37-34 lead it took into the fourth quarter.
The Cyclones scored on three-straight possessions early in the final period, expanding their lead to 44-36 with five minutes to play. On their next possession, the Cyclones ran more than a minute off the clock despite Baldwin's on-ball pressure before Bulldog senior Cornell Brown forced a turnover and scored on a fast break with 3:15 to play. Brown would score again a minute later after the Bulldogs forced a five-second call on an inbound play, cutting Ottawa's lead to 44-41. Baldwin's last chance to win the game after yet another Ottawa turnover ended when the Bulldogs misplayed the ball.
Baldwin coach Dustin Leochner praised Ottawa but said his team didn't do the things that helped it to a 7-0 start and a No. 3 ranking Kansas Coaches Association ranking in the large 4A class.
"We weren't as focused as we needed to be," he said. "We didn't get to loose balls. We got out rebounded. We didn't do the little things we have been doing. It caught up to us."
Ottawa effectively used a 3-2 defense to stymie the Bulldogs. Leochner said the Bulldogs settled for too many three-point shots from the corner instead of driving the baseline to create a numbers mismatch.
The loss should be a "wake-up call" to the Bulldogs as they move forward, he said.
"We weren't ready to do everything we needed to do tonight," Leochner said. "You have to grind games out if you're going to do something in post-season."
With the loss, Baldwin fell to 7-1 and 3-1 in Frontier League play. Ottawa is 5-1 and 3-1 in league play. The team will try to get back in the win column when it travels Friday to Spring Hill.
Ottawa 51, Baldwin 44
Ottawa 19 11 7 14 – 51
Baldwin 14 11 9 10 – 44
Ottawa scoring: Tyler Smith 10, Tate Jung 5, Dayne Jung 4, Cole Bunce 11, Jake Matney 2, Connor Stepp 6, Isaac McCullough 9
Baldwin: Cornell Brown 15, Chad Berg 5, Luke Fursman 10, Michael Burton 11, Quinn Twombly 3