2014 legislative preview: Sen. Tom Holland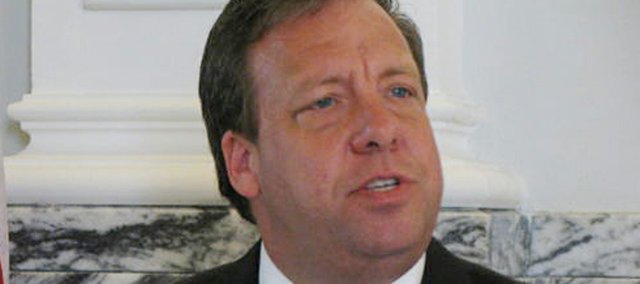 Tom Holland
Kansas Senate, 3rd District
Tom Holland quick facts
Democrat
Hometown: Baldwin City
Political experience: Democratic candidate for governor, 2010; Kansas Senate, 3rd District, 2009 to present; Kansas House, to 2001 to 2008
Committees: Assessment and Taxation, Commerce; Federal and State Affairs, Interstate Corporation, Ways and Means
Occupation: I.T. consultant
Phone: 785-296-7372, 785-766-6862
Email: tomholand23@hotmail.com
Address: 961 E. 1600 Road
Baldwin City, KS 66006
Q: Tax policy has dominated the past two legislative sessions. Reports are Gov. Sam Brownback and Republican legislative leaders, while still wanting to eliminate the state's income tax, will put that on hold in the coming session. Do you see that happening?
A: "With the governor up for re-election this fall, I think he and legislative leaders will want this legislative session to be as quiet and non-contentious as possible. Two years ago, the governor and his conservative allies in the Legislature cut income taxes primarily benefitting the Koch brothers and the wealthy. Last year, the governor and his supporters turned around and raised taxes on low- and middle-income taxpayers to pay for the income tax cuts in part by increasing the state sales tax and reducing the value of itemized deductions. The governor's income tax cuts have created a situation where we're now running an annual deficit of approximately $150 million a year. The governor will not want to do anything that highlights the recklessness of his tax policies."
Q: Can the session be free of discussion on taxes with the coming Kansas Supreme Court ruling on school finance?
A: "For this session, yes. We do have a positive ending budget balance for the time being, but that surplus will eventually disappear over the next three years regardless of the school finance ruling. Having to spend more money on K-12 education, if ordered to do so by the courts, would force the Legislature to revisit the governor's income tax cuts during the 2014 legislative session."
Q: In response to the income and sales tax measures the Legislature approved last session, you introduced a number of bills that would provide relief to low- and middle-income Kansans. Those weren't approved. Do you plan to push those measures again this session?
A: "I will most likely again sponsor some sort of state-funded property tax relief bill again this year for residential homeowners. Regarding other taxes, I would first like to see if/how the Supreme Court rules on school finance this session and how the governor responds to any ruling calling for more money to be spent on Kansas K-12 schools."
Q: What is on your legislative agenda this session? What matters of local interest do you plan to pursue?
A: "One bill I'm planning to introduce this session is a bill to limit the number of paid legislative session days to 90 days, even if the session runs over. Regarding local issues, one issue I'm looking at is damage to specialty crops as a result of 2,4-D (herbicide) drift. The other issue I'm looking at is to what extent the property rights of surface owners are being compromised by those of mineral rights owners with respect to injection well drilling."