BCRC

pickleball group warms cool Vinland gym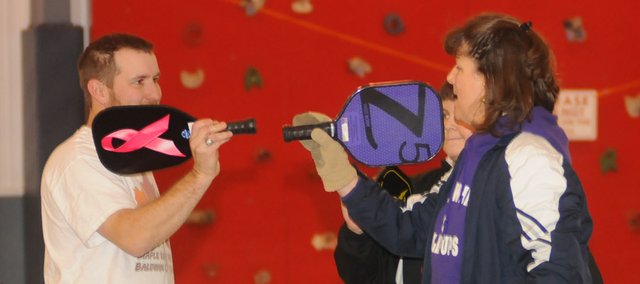 The six people Thursday in the Vinland Elementary School gymnasium said they weren't playing pickleball but polar pickleball.
The gym in the closed school is the winter home of the Baldwin City Parks and Recreation Commission's Thursday evening pickleball group. The gym offers more comfort than the group's warm-weather site at the Baker University tennis courts on Grove Street, but it was in the 40s with the Baldwin school district keeping the temperatures low to limit heating costs.
The players adapted, layering up with sweatshirts, fleece jackets or parkas, which were peeled off as they warmed up in the heat of competition.
"It's pretty chilly, but you warm up," Caroline Tanner said. "It's a good workout. I like everything about it."
Pickleball is a combination of badminton, tennis and table tennis, said Kim Heckathorne, a physical education teacher at Baldwin Elementary School Intermediate Center. Players use what look like oversized table tennis paddles to bat about a hollow plastic ball in a game that apes tennis rules but on a somewhat smaller court.
"It's another game to play," she said. "It's a quick, kind of fun-paced game. It's not as fast-paced as tennis. It gives you a good workout, but you don't notice it because you're having so much fun."
Retired Baldwin High School tennis coach Ginny Honomichl started pickleball in Baldwin City through the recreation commission after being introduced to the sport in Lawrence. It's been popular, although the weather kept numbers down Thursday.
"We've had has many as 16 people on three courts," Heckathorne said. "We have players come from Eudora, Lawrence, Ottawa and Wellsville."
The game is popular with seniors but can be enjoyed by all, Heckathorne said.
Asked who was the most competitive, the other players pointed to Connie Robertson, who traveled from her home south of Lawrence with her grandson Cameron Elston to play. Robertson, in turn, gave the nod to Honomichl. Absent Thursday, Honomichl has played in pickleball regional and national tournaments.
Thursday's matches were laid-back contests with easy laughter and praise for an opponents' good play. Players rotated through four-player matches on one court while two players faced off over a second net.
"Everybody has improved," Tanner said. "We don't have set teams. We play in different groups so we get to know everybody. I like the group we have."
If you go
What: Baldwin City Recreation Commission pickleball group
Where: Vinland Elementary School gym
When: 6:30 to 8 p.m. Thursday
Cost: Free