Jones lifts Baldwin girls past Louisburg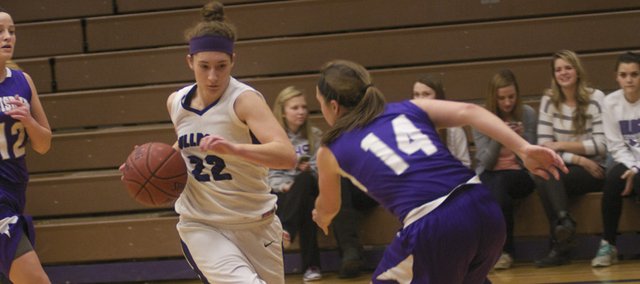 Senior guard Katie Jones scored 33 points Friday to lift Baldwin past visiting Louisburg, 63-54.
In a sign of things to come, Jones connected on a three-pointer with 5 seconds remaining in the first half, giving the Bulldogs a 31-29 lead. She put the Bulldogs in front for good, 36-34, when she scored her first basket of the second half on a three-point basket with 4:25 to play in the third quarter. She would add 10 more before the period ended and another 12 points in the final eight minutes. All the while, Baldwin pull away from the Wildcats to earn their second win against Louisburg this season.
"Katie had a great game," Baldwin coach Bob Martin said. "I feel she has been playing really well for us since the Paola game. She had a great game at Paola.
"A lot of good game out of this game tonight."
Joining Jones in double figures were juniors Maddie Ogle with 13 points and Alexia Stein with 10. Like Jones, Ogle points came from the outside and on strong drives to the basket.
The 63 points Friday was the Bulldogs' highest point total of the season, but the team is averaging 52 points per game. His team is playing at a faster pace this year, Martin said, and is offensively skilled.
"We're not nearly as good defensively as we were last year, but we're getting there," he said.
With the victory, Baldwin improved to 5-2 on the year and 2-1 in Frontier League play. Louisburg fell to 5-2 and 2-1 in league play.
The Bulldogs homestand will continue with a 6 p.m. game Tuesday against Ottawa.
Baldwin 63, Louisburg 54
Baldwin 15 16 14 18 – 63
Louisburg 13 16 10 15 – 54
Baldwin scoring: Katie Jones 33, Maddie Ogle 13, Corey Valentine 4, Hailey Cope 3, Alexia Stein 10
Louisburg: Kirstin Lowry 8, Natalie Moore 17, Lauren Dunn 2, Kacie Geiman 15, Nicole Hopkins 1, Kallie O'Keefe 9, Maddie DeShazer 1