Baldwin overcomes cold shooting to stay undefeated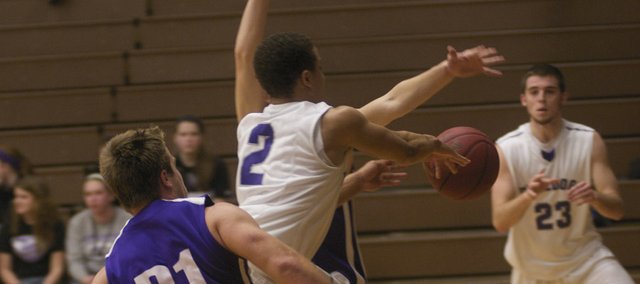 Baldwin boys basketball coach had advance notice that his team was in for an "ugly" game Friday.
"We didn't shot well in practice yesterday," he said. "I was worried about that, but then I thought, 'basketball coaches are always superstitious. That's silly.' But it did carry over tonight."
The cold shooting persisted through the first three quarters of Friday's game against Louisburg. The Bulldogs struggled to hit open shots from the field or the free throw line, where they connected on only 6-of-19 shots.
Compounding Baldwin's shooting woes was foul trouble of inside players Quinn Twombly, Luke Fursman and Michael Burton.
"We didn't move our feet," Leochner said. "Their big guys got a lot of good shots because we let them go wherever they wanted to go. We played defense way too much behind them tonight.
"But overall you can't complain. I don't know what they shot, but it wasn't very good."
The two things Baldwin had success with all night were its full-court press and aggressive half-court pressure defense. The Bulldogs forced Louisburg into "at least" 22 turnovers, assistant coach Paul Musselman said. Those turnovers prevented the Wildcats from ever taking the lead despite the Bulldogs cold shooting.
The Bulldogs finally found their stroke in the fourth quarter, scoring on their first four possessions. Senior Chad Berg started the scoring with a three-pointer. After a Louisburg basket, Baldwin would put the game away with an eight-point run that included a basket from Twombly, a three-pointer from Fursman and traditional three-point play from Cornell Brown, which gave Baldwin a 43-28 lead with 5:36 to play.
"We talked a lot about stringing possessions together," Leochner said. "That's what we were able to do, finally. We went on a little run there."
Brown led Baldwin with 12 points, eight assists and four steals.
Baldwin is now 7-0 on the year and 3-0 in the Frontier League. Louisburg fell 3-4 on the year and 0-3 in league play.
The Bulldogs will try to stay perfect will it plays at home Tuesday against Ottawa. The Cyclones lost all five starters, including Duke University recruit Semi Ojeleye, but entered Friday's night with a surprising 6-0 record.
Baldwin 52, Louisburg 37
Baldwin 10 10 12 20 – 52
Louisburg
Baldwin scoring: Cornell Brown 12, Tim Craig 8, Chad Berg 9, Luke Fursman 7, Michael Burton 8, Quinn Twombly 8
Louisburg: D.J. Meyer 4, Nathan Moore 7, Will Garza 2, Corbin Wertz 10, Alex Dunn 3, Mesa Ribordy 5, Drew Carder 6