Baldwin City man realizes dream of opening body shop at young age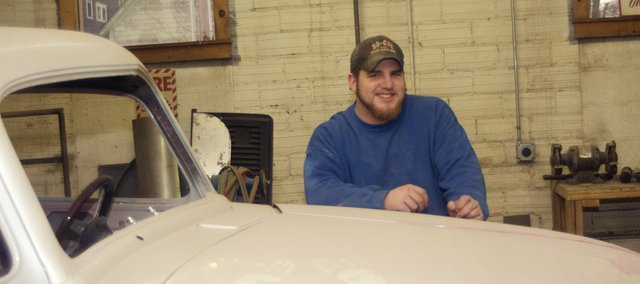 Carson Wood welcomes the icy conditions of the past few weeks most have found a nuisance.
His business explains the 23-year-old Wood's different perspective. Wood owns Woody's Collision and Custom at 819 Ames St., and slick roads add to the shop's business.
"I feel guilty because I look forward to a time of other peoples' misfortune, but that's the way it goes," he said.
Helping ease any guilt is the knowledge he is providing a needed service, one his local customers would have to go elsewhere to find if he hadn't opened the only body shop in Baldwin City three-and-a-half years ago, Wood said.
"It's a good feeling driving around town and seeing a car going down the road that was totaled a week before," he said. "I just like seeing the finished product."
Inside his shop's bay are a 1937 two-door Chevrolet that belonged to his grandfather, his 1934 Ford pickup and his sister Tillie's 1953 GMC pickup, all in various stages of restoration. They are evidence of a continuing passion for vintage cars nurtured as a teen while hanging out at the Baldwin City shop of Kenny Bell.
As many of his fellow 2009 Baldwin High School classmates headed off to college, Wood, the son of Ron and Kim Wood of Baldwin City, enrolled in auto body repair at the North Central Area Technical College in Beloit. Once he graduated, he immediately opened a shop in his hometown. His parents, particularly his mother, were concerned about the work commitment he would have to give the one-man operation. He soon learned Mother knew best.
"I was a 20-year-old kid who thought he'd open the doors and start making money, but there's a lot more that goes with it," he said. "You do it all, from sweeping the floor to doing the books."
He learned he was up to the task. Wood said his business has grown each year since he opened.
Wood's shop has grown with it. He opened sharing space in a smaller shop next door. About two years ago, he moved into a 1930s-era, 30-by-40-foot garage.
It's spacious enough to house a separate office and a large automotive paint booth and still provide room to park half a dozen vehicles.
"It was once the Chrysler dealership," he said. "It's a cool old building. It's perfect for me.
"I've always planned on having my own shop. It was my dream. I wasn't always certain it'd work out, but I'm very happy with where I'm at with the shop."