Baldwin girls crush rival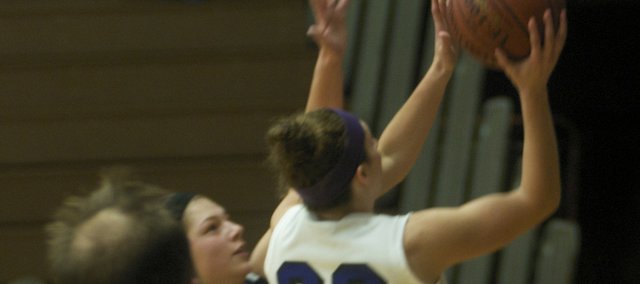 Baldwin High School girls coach Bob Martin said his team was ready to play Tuesday after three weeks without a game.
It showed. The Bulldogs took the lead for good against rival Eudora when sophomore Madeline Neufeld hit a three-point shot about midway through the first quarter. The basket gave Baldwin a 10-7 advantage, which the team would never relinquished in a 54-37 win.
Sports writers sought
The Signal is seeking to expand its coverage of Baldwin's student-athletes. If you are a student journalist, community member or general sports enthusiast, contact editor Elvyn Jones at ejones@theworldco.info for more information. We are seeking to publish scores, stats, feature stories and photos of athletes from Baldwin High and Baker University in addition to Baldwin student-athletes who may be attending other area schools.
"After a long, long break, it was good for us to play," Martin said. "They were definitely ready. They were tired of practice. But I think it did us a lot of good. I think we have improved."
Baldwin's defense forced the visiting Cardinals into numerous turnovers with both a press and an aggressive half-court defense.
"They do a good job of setting tempo," Martin said. "We wanted to shake things up and the press was able to do that."
The pressure not only forced multiple Eudora miscues, but it also led to easy transition baskets for the Bulldogs. Flourishing from the attack were senior Katie Jones, who finished with a game-high 16 points, and junior Maddie Ogle with 11 points. Junior center Alexia Stein was efficient in the post in half-court sets, finishing with 15 points.
With the lead, Martin was able to have the Bulldogs break out a trapping half-court zone defense put in during the holiday break and empty the bench in the final period.
The win evened the Bulldogs' Frontier League record at 1-1. Although pleased with his team's progress, Martin said he and the team would soon have a much better understanding of how much they have improved.
"I think we'll know better after the next three games of Louisburg, Ottawa and Spring Hill," he said. "I feel like we're better than before we broke for Christmas. We'll know a lot more at the end of next week."
Baldwin will play the first of those opponents, Louisburg, at 6 p.m. Friday at home. The Bulldogs beat Louisburg, 37-35, last month in the finals of the Bulldog/Wildcat Classic.
Baldwin 54, Eudora 37
Baldwin (4-2, 1-1) 12 15 14 13 – 54
Eudora (1-4, 0-3) 9 8 8 12 – 37
Baldwin scoring: Karina Steinke 3, Maddie Ogle 11, Madeline Neufeld 3, Katie Jones 16, Kyna Smith 2, Alexia Stein 15, Hailey Cope 4
Eudora: Tierra Balluch 4, Kelsey Balluch 2, Abby Richeson 8, Cierra Richeson 2, Sophia Lehman 2, C.J. Fewins 4, Makaila Garcia 13, Paige Peterson 2