Baldwin boys stay perfect with victory against rival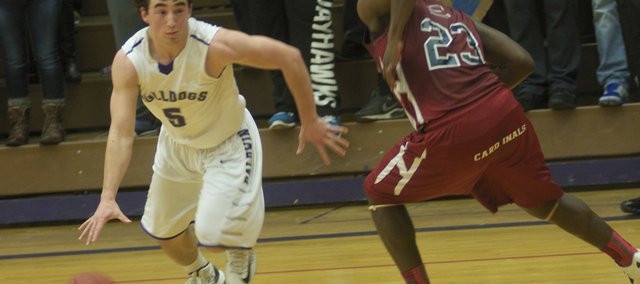 Senior Chad Berg made 7-of-8 free throws in the fourth quarter Tuesday in his first game of the season, helping the Bulldogs fight off rival Eudora, 59-54, for a Frontier League victory.
Sports writers sought
The Signal is seeking to expand its coverage of Baldwin's student-athletes. If you are a student journalist, community member or general sports enthusiast, contact editor Elvyn Jones at ejones@theworldco.info for more information. We are seeking to publish scores, stats, feature stories and photos of athletes from Baldwin High and Baker University in addition to Baldwin student-athletes who may be attending other area schools.
Berg missed the Bulldogs' first five basketball games with a hamstring injury suffered in Baldwin's football playoff run. Although he fought to find his gym legs in the first half of Tuesday's game, Berg showed no conditioning problems in crunch time, scoring nine points in the final period and making Eudora pay for sending him to the line.
Helping with the fourth-quarter Bulldog effort were senior guards Cornell Brown, who had seven of his game-high 19 points in the final period, and Tim Craig, who scored half of his eight points in the final eight minutes.
The three guards helped Baldwin explode for 21 fourth-quarter points. They did so by continuing to attack the basket on the break with the Bulldogs holding a lead of from four to 10 points.
"We told them we wanted to keep looking for baskets in transition," Coach Dustin Leochner said. "We don't ever want to give up easy baskets regardless of what the score is. Some coaches are a little more conservative. I guess it can come back to bite you sometimes, but I think it helps keep you in the game and keep your intensity level up."
The fourth offensive explosion helped Baldwin maintain its lead, but it was defense that put the team ahead in the third quarter. The Bulldogs held Eudora to five points in the quarter, in which it turned a six-point halftime disadvantage into a 38-35 lead.
Keying the Cardinals' early success was freshman Mitchell Ballock, who scored 10 first-quarter points on the way to a 17-point night. Led by his outburst, Eudora would take a 24-13 lead early in the second quarter before the Bulldogs rallied.
Leochner said the Cardinal freshman was contained after senior defensive stopper Luke Fursman was assigned to guard him.
"Luke has been our guy the last two years," he said. "(Ballock) is no better than Semi (Ojeleye), and we weren't intimated by him so there's no reason to be intimidated by this kid."
The Bulldogs' ability to fight back from the early deficit and Eudora's hot shooting was a tribute to the team's emotional maturity, Leochner said.
"I've been kind of praising their composure all season," he said. "A year to two ago, we might have been shell-shocked by their rising up like that. But we just kept plugging away and looking for good shots.
The Bulldogs will next play Friday at home against Louisburg, a team it defeated, 61-40, last month in the finals of the Bulldog/Wildcat Classic.
Baldwin 59, Eudora 54
Baldwin (6-0, 2-0) 13 11 14 21 - 59
Eudora (3-3, 1-2) 20 10 5 19 - 54
Baldwin scoring: Cornell Brown 19, Chad Berg 13, Luke Fursman 13, Michael Burton 4, Quinn Twombly 2, Tim Craig 8
Eudora scoring: Mitchell Ballock 17, Andrew Ballock 10, Austin Downing 11, Grant Elston 3, Zach Scroggin 4, Mason Fawcett 4, Skyler Shockley 5
Baldwin 59, Eudora 54
Baldwin (6-0, 2-0)
Eudora (3-3, 1-2)
Baldwin scoring: Cornell Brown 19, Chad Berg 13, Luke Fursman 13, Michael Burton 4, Quinn Twombly 2, Tim Craig 8
Eudora scoring: Mitchell Ballock 17, Andrew Ballock 10, Austin Downing 11, Grant Elston 3, Zach Scroggin 4, Mason Fawcett 4, Skyler Shockley 5