Baldwin City Council approves $1 residential trash fee increase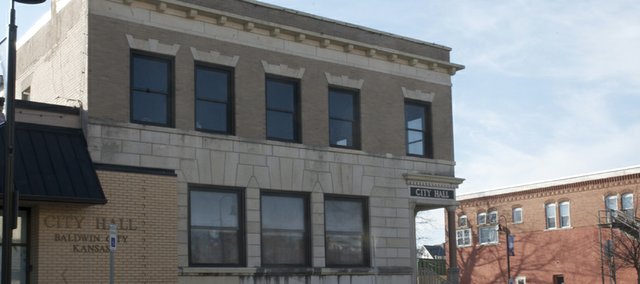 Baldwin City residents will see a $1 increase in their monthly trash bill starting in February as the result of action Monday by the city council.
The council approved the first reading of an ordinance raising the monthly residential trash collection fee from $11.50 to $12.50. The action did not change the $4.50 fee the city charges for the voluntary curbside recycling program.
City Administrator Chris Lowe said the increase stemmed from Ottawa Sanitation's need to increase its service charge to the city to offset higher tipping fees at the Franklin County landfill. That fee increase with the company would be part of a new five-year agreement with Ottawa Sanitation, which the council also approve on Lowe's recommendation.
"They are a great company to work with, and we get very few complaints," Lowe said.
Ottawa Sanitation's service fee increase wasn't the only reason for the rate hike. During last summer's 2014 budget discussions, Lowe alerted the council the city was losing money at the current fee rate, which also provides $6,000 a year for the recycling bins near the Midland Railway yard, and that it would have to be adjusted. The fee increase got the city's sanitation account closer to "sustainability," but further increases were needed in the coming years to get it out of the red, Lowe said. He recommended the fee be raised 25 cents annually through 2018 to address that need and prevent large increases in the future.
Lowe said city customers would still get service at a good rate compared to other cities in the area, noting Eudora charges residential customers $14.25 a month, Osawatomie $16.39, Spring Hill $16.11 and Basehor $14.03.
In other action, the council:
• Approved the first reading of Howard Kastl's request to rezone from low-density residential to planned general commercial an about 2-acre plot just west of the intersection of U.S. Highway 56 and High Street. The rezoning request came with the Baldwin City Planning Commission's recommendation for approval. Dean Lawrenz, owner of residential property to the west of the plot, expressed concern about screening from any new development and was promised he would be informed of any planning commission consideration for new development on the property.
• Approved the second and final reading of an ordinance granting a conditional use permit for the Church of Christ to use commercial property at 820 High Street as a church.