Baldwin artist can't retire from painting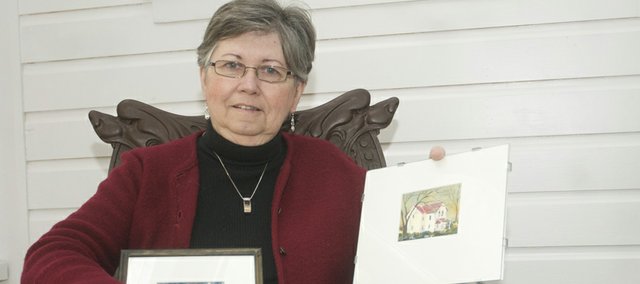 Her days of punching a clock are behind her, but Rosemary Murphy can't retire from her passion.
Her career in art has included teaching at the elementary, secondary and junior college levels and stints as a graphic artist. Murphy still designs stained-glass windows for churches and is driven to break out her brushes.
"I'm retired from those things I had to show up for," she said. "I can't imagine not painting. Like every artist, there are times of discouragement, but you just keep going. I'm compelled to keep painting."
Although she has worked in a variety of media, watercolors most satisfy her creative urge.
"I've been painting in watercolor for 25 years," she said. "I always say when I figure it out and master it, I'll move on, but I continue to love watercolor.
"There is something to me about watercolor on the brush and that first stroke on the paper. That delight has never changed for me over the years."
Murphy has had solo shows or been part of others through the years. One of the most meaningful for her was the inaugural gallery show in 2010 for the Lumberyard Arts Center.
"I was very pleased to be asked to do that," she said. "Support of the Lumberyard is very important to me. I've been in on that from the very beginning."
Lumberyard gallery director Sandy Cardens said Murphy was an easy selection for the first show, having taught classes before the Lumberyard's conversion to the arts center.
"I think Rosemary's art appeals to a wide variety of people, particularly in this area," Cardens said. "She is very well known, and it was a great success for the Lumberyard."
Murphy will be one of the artists in the "Itty Bitty Picture Show," which is to open in the Lumberyard gallery from 6 to 8 p.m. Friday and will run through Feb. 1. It is not the first time Murphy has been part of shows featuring postcard or smaller sized art.
The Association of Community Arts Agencies of Kansas selected her watercolor "Late in the Day" to be in a traveling show of postcards in 2000, and it is now part of that organization's permanent collection at Fort Hays State University. Murphy said one of her watercolors was also chosen to be part of a juried show of small art in Omaha.
"You kind of have to shift gears when you are doing small works," she said. "You have a smaller area on which to say the same thing. You don't want it to be so detailed it gets boring, yet you want enough detail to pull the viewer in. I think sometimes that's easier to do in a larger piece."
In recent years she contributed work for benefits, including the Lumberyard, Murphy said. But while open to doing another solo show, she hasn't pushed herself, she said.
"I hope to get enough ready to do another show," she said. "I want to have a certain quality. I probably have as many paintings stashed away as I do when I exhibit. It takes a lot for me to be satisfied."