Baldwin girls save best effort for last regular season game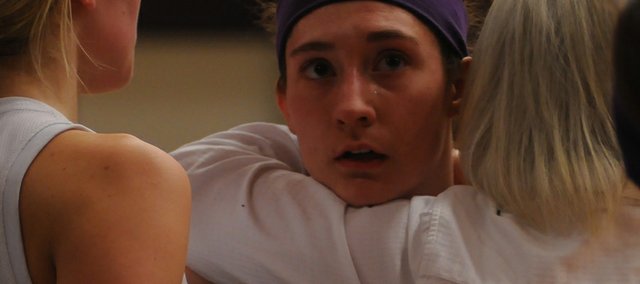 Playing what its coach Bob Martin said was their best game of the season, the Baldwin High School girls on Thursday notched an easy 46-31 victory against De Soto.
Baldwin's aggressive defense forced De Soto into numerous turnovers and was particularly effective in the first quarter that ended with Baldwin leading 12-3. The Bulldogs would go on to build a 22-10 halftime advantage.
Baldwin has seen comfortable leads slip away this season, but that would not be the case Thursday as the Bulldogs never let De Soto back in the ballgame and finished with 15 fourth-quarter points.
Senior Katie Jones finished with a team-high 11 points on senior night. De Soto sophomore Megan Bonar led all scorers with 13 points.
Baldwin 46, De Soto 31
Baldwin (12-8, 6-6) 12 10 9 15 - 46
De Soto 3 7 8 9 – 31
Baldwin scoring: Karina Steinke 3, Maddie Ogle 9, Madeline Neufeld 2, Katie Jones 11, Corey Valentine 2, Alexia Stein 10, Hailey Cope 9
De Soto: Sydney Jones 2, Mackenzie Lancaster 3, Tori Marshall 2, Kristen Saucerman 9, Megan Bonar 13, Madison Plake 2