Performing Arts Center offers Baldwin City residents shelter during tornadoes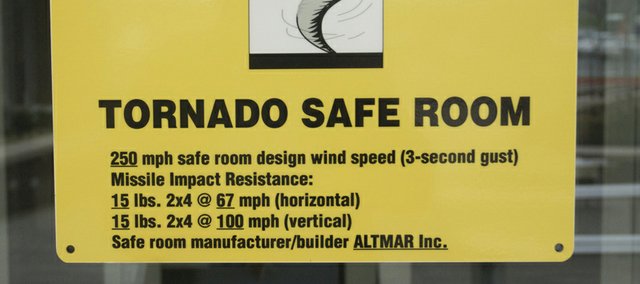 With another snow said to be headed this way, it's easy to forget March 1 marks the beginning of severe weather season in Kansas.
Severe Weather Awareness Week 2014
Douglas County Emergency Management has partnered with the Topeka National Weather Service and the Kansas Division of Emergency Management to request your participation in "Kansas Severe Weather Awareness Week" activities March 3-7, 2014. The annual statewide tornado drill will take place at 1:30 p.m. March 4.
Citizens of Douglas County live each day with the risk of severe weather. "Kansas Severe Weather Awareness Week" is the perfect time to create and practice your severe weather plan at home, school, work, or any other place you or your family frequents. All Douglas County citizens should be aware of the appropriate steps to take in order to ensure safety should severe weather strike at your location.
Our office recommends that each household and business purchase an All Hazard NOAA Weather Radio and have it programmed for Douglas County and/or surrounding counties, so you can stay ahead of the severe weather threat by receiving severe weather watches, warnings and other vital information directly from the National Weather Service. Check the battery in your weather radio regularly to be sure you'll be able to receive important information even when the power is out.
Each day of Severe Weather Week, Douglas County Emergency Management will be focusing on different severe weather safety and preparedness topics.
• Monday: Watches and warnings
• Tuesday: All-hazard NOAA weather radios and outdoor warning sirens
• Wednesday: Thunderstorms and Lightning
• Thursday: Floods/flash floods
• Friday: Preparedness
Emergency Management is also sponsoring a Severe Weather Challenge. Each day of Severe Weather Awareness Week, EM will post a challenge on its social media sites. Individuals who successfully complete all five challenges will be entered into a drawing to win the opportunity to activate the Outdoor Warning Sirens on a scheduled test day.
Severe weather training
Weather 101 is scheduled for March 25 at South Middle School in Lawrence. The presentation will include information about severe thunderstorm development, identification of important features, and safety and preparedness tips. All hazard radios will be sold with on-site programming available.
Baldwin City residents needing a reminder need only recall two years ago when on Feb. 29 sirens sounded warning of a tornado spotted on the ground west of town. The tornado did only minor damage to a rural farmstead, but the siren did send about 60 people to the then newly opened Baldwin Junior High School Performing Arts Center looking to ride out the storm in the structure built with the help of a FEMA grant to withstand 250 mph winds.
They shelter seekers found the PAC locked, and that in turn started several months of discussion between the Baldwin school district and city about who should be responsible for opening the PAC during a tornado warning when school was not in session. Baldwin Superintendent Paul Dorathy eventually found a solution that allows a door to the PAC to be unlocked remotely.
Dorathy said the PAC was ready for use as a tornado shelter this season but reminded residents its use comes with rules and some advice.
"The main thing is that if you can't be there in 10 minutes after a tornado siren sounds, don't go the Performing Arts Center for shelter," he said.
Residents who take longer than that to get to the shelter put themselves at greater risk of being caught in a tornado in the open and should find shelter elsewhere, Dorathy said.
Those seeking shelter at the PAC during non-school hours need to enter through the western-most double-steel doors on the north side of the building and not the PAC's regular glass-door entry, Dorathy said.
The steal doors will be unlocked remotely when a tornado siren sounds, which should happen even if the power fails. Dorathy said the locking mechanism is on a battery backup that will keep the locks operational for hours.
As a further failsafe, there is a phone number on the door that will connect those seeking shelter to someone with the code to unlock the doors or — if that code doesn't work — a combination to a lock box near the doors with a key to the doors, Dorathy said.
Light switches are to the left of the designated door. Again, the PAC has a battery emergency lighting system that should kick in during a power failure, but those seeking shelter are encouraged to bring flashlights, Dorathy said. It is also a good idea to bring cellphones in case it is necessary to call for the lock code and a portable radio, he said.
Among the things asked of those seeking shelter at the PAC:
• Park in the parking lot and not in the fire lane next to the shelter.
• Don't bring pets. Allowing pets would create a liability issue for the district, Dorathy said.
• Don't bring food or drinks other than bottled water.
• Don't smoke in the building
• Don't bring firearms.
• Stay calm and stay away from outside doors.
• Pick up any trash before leaving.
Video cameras have been installed inside the PAC to record activity during its use as a shelter, but those seeking shelter are also asked to monitor the activity of others, Dorathy said. Any vandalism or theft could jeopardize its continued use as a tornado shelter.
The PAC is available as a community shelter while school is in session, but residents need to get there within the 10-minute window or they will find all doors locked, Dorathy said. All students and staff will be in the shelter five minutes after a tornado warning is sounded, he said.