Baldwin Junior High team hopes to improve lives of autistic students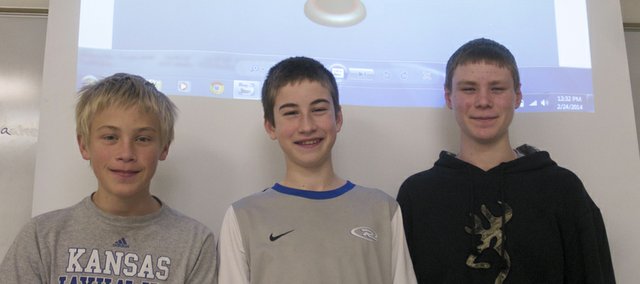 Four Baldwin Junior High School students are awaiting word on whether their entry into a U.S. Department of Defense-sponsored contest will earn them a summer trip to Disney World.
Should the team earn the trip and go on to win the national contest, the real winners could be young autistic students in central Kansas.
The four enhanced learning seventh-grade students, Jacob Bailey, Joss Bathke, Britten Coates and Jake Grossner, entered the Christopher Columbus Awards, which challenges teams to develop technology based solutions to community problems.
The top teams from eight regions will earn a weeklong summer stay at Disney World in Orlando, Fla., for the national finals.
Baldwin Junior High School gifted teacher and team coach Pam Davis said she thought the team had a good chance of advancing to the finals and doing well there because its project was so creative and different.
The team, noting the scarcity of such resources in rural Kansas communities, proposed a mobile occupational therapy lab specifically designed for autistic students. Their proposal would have an occupational therapist drive a truck from school to school, which would be equipped with a ball pit such as those found at kid-themed restaurants, waterbed, swing, tunnel, trampoline and shape table with cutout holes to insert stars, squares, circles and other shapes.
"The past winners have typically been recycling things," Davis said. "We thought those had been overdone, so we looked for something different. I think they have a wonderful, wonderful idea."
Coates credited his absent teammate Bathke with suggesting the team explore ways to help autistic students.
"We all had some experience with autistic children, but it was his idea because he has had the most," Coates said.
Davis may be biased as the four boys' teacher, but her history in guiding district students to success in national competitions gives added weight to her confidence the team will do well in the contest. For the past six years, she was the coach of Baldwin High School's Real World Design teams that won the state competition all those years and twice finished first at the national finals in Washington, D.C.
That high school competition, which the Department of Defense also sponsors, has been changed as part of budget cuts in Washington. Davis said it was now a two-year competition, and she was attempting to keep a team together at the high school.
No matter how that plays out, the Real World Design experience benefited the junior high Christopher Columbus team because it used the CAD engineering design software provided the district for entering high school competition.
Grossner took the lead on that task, playing with the CAD software until he was proficient enough to draw the shape table and ball pit.
"It was easy once I learned what to do," he said.
The shape table, ball pit and other items were all chosen to be part of the mobile lab after the team interviewed Baldwin district occupational therapist Barb Schwering and read books on autism and treatments like "sensory integration therapy" she provided. The ball pit is meant to help touch-sensitive autistic students get used to being touched so that they will be receptive to such things as shaking hands later in life, the team's five-page entry proposal explains.
Bailey, Coates and Grossner said it would be fun to win the trip to Disney World for the finals. But they are also excited about the possibility of seeing their solution get on the road.
The winning team will get a $25,000 grant to be used to help make its project a reality, Davis said. The team proposes its mobile lab be equipped and based in Salina, where it would travel to schools in central Kansas.