Baldwin boys in zone against man defense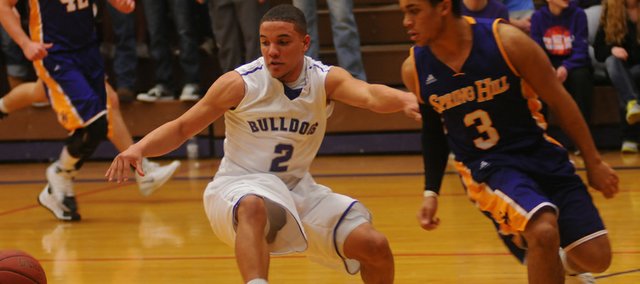 The Baldwin High School boys faced a man defense Tuesday and promptly showed why they have seen a steady diet of zone in the past four games as the Bulldogs raced to an 81-46 victory against Spring Hill.
The 81 points were a season high for the Bulldogs, who pulled away from the visiting Broncos with a 12-4 run in the second quarter. Senior Chad Berg led the charge with eight points, including two three-pointers. Baldwin's offensive efficiency allowed the Bulldogs to deploy full-court pressure, which further contributed to the offensive showcase.
So well was the offensive clicking that the Bulldogs knocked down 10 shots from beyond the three-point arc, something it hasn't been able to do consistently against zones.
"I told the guys those shots will be there against a zone," coach Dustin Leochner said. "We finished well inside tonight. We should be getting those shots, too."
The game got a little rugged at time, especially in the second quarter as the Bulldogs fell into Spring Hill's frenetic style of play. Leochner said he told the team at halftime to calm down and pass out of double teams rather than attempt to dribble out of them.
The Bulldogs will next play Thursday against De Soto. The Bulldogs won two weeks ago at De Soto in triple overtime.
Leochner said De Soto will again play zone against the Bulldogs, which should help the team prepare for next week's sub-state.
The senior night game will be the last regular season home game for Baldwin seniors Chad Berg, Cornell Brown, Michael Burton, Tim Craig, Luke Fursman, Ian Kirk, Quinn Twombly and Seth Phillips.
Baldwin 81, Spring Hill 48
Baldwin 10 17 22 22 – 81
Spring Hill 13 6 17 12 - 48
Spring Hill scoring: Tyus Heinrich 2, Danny Hodge 2, Ivan Hughes 13, Chris Bybee 4, Drew Cygan 6, Nick Reynolds 15, Trey Heinrick 2, Ryker Johnson 4
Baldwin scoring: Cornell Brown 17, Tim Craig 15, Chad Berg 16, Luke Fursman 4, Jackson Barth 8, Michael Burton 8, Quinn Twombly 11, Seth Phillips 2