Baldwin girls edge Spring Hill behind junior Ogle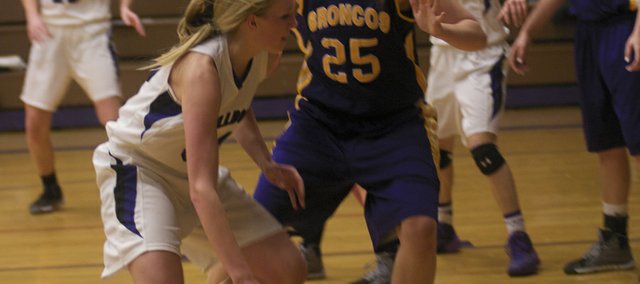 Junior Maddie Ogle scored 10 fourth-quarter points Tuesday to help Baldwin edge Spring Hill, 46-43.
The win ended a Bulldog three-game losing streak. The last two of those losses included an overtime game Friday at Ottawa and loss a week ago at Louisburg on a three-pointer with less than 5 seconds on the clock.
"I told the girls we were due one of these," Baldwin coach Bob Martin said. "We lost a couple where we played well, better than we did tonight.
"We were able to get a couple of stops at the end. We stepped on offense when we needed to. Corey (Valentine) made two big free throws."
The lead traded hands four times in the second half and the game was tied 34-34 at the end of the third quarter. Spring Hill started the final period hot, building a 39-34 advantage with 5:49 left in the game. The lead quickly shrank as Ogle scored two straight baskets in less than 30 seconds to get Baldwin back in the game.
"Maddie was huge tonight, especially in the fourth quarter," Martin said.
Ogle, who was active on the glass and on defense in the fourth quarter, ensured Baldwin wouldn't lose another close game when she stole the ball with 12 seconds and the Bulldogs leading, 44-43. Spring Hill fouled junior Valentine, who converted both free throws to put Baldwin ahead by the game's final score.
Ogle said she was determined not to loss another game. Her focus before making the big steal was to stay tall to deny the ball from going inside to Spring Hill's 6-2 center Shelby Baker, who finished the night with a game-high 19 points, she said.
The Baldwin girls will attempt to end the regular season with a two-game winning streak with a 6 p.m. game Thursday against De Soto. It will be senior night for the team's Hailey Cope, Katie Jones and Karina Steinke.
Baldwin 46, Spring Hill 43
Baldwin 12 7 15 14 - 46
Spring Hill 16 6 12 9 - 43
Baldwin scoring: Karina Steinke 5, Maddie Ogle 18, Madeline Neufeld 2, Katie Jones 12, Corey Valentine 4, Alexia Stein 1, Hailey Cope 6
Spring Hill: Lilly Smith 6, Sydney Cluck 8, Sydney Weaver 4, Annie Vanzant 4, Abby Mikesell 2, Shelby Baker 19