Baldwin Junior High student wins first place at
KU

Engineering Expo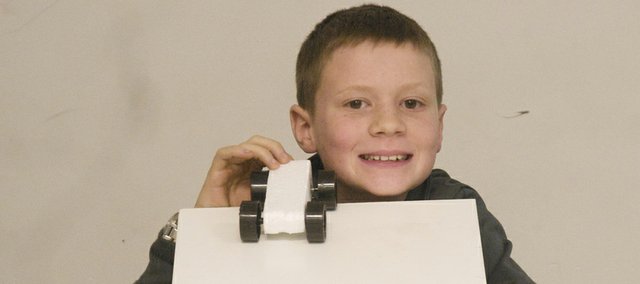 Paying close attention to the rules won Baldwin High School sixth-grader Anthony Dunn a first-place medal in the gravity car competition Thursday at the Kansas University Engineering Expo.
Baldwin Junior High School enhanced learning teacher Pam Davis said more than 2,000 students attended the event last week on the KU campus, competing in 17 categories.
A gravity car is exactly what it sounds like, with the force of gravity supplying all the power for the cars in a race down the sloping track.
Like all races, speed counted. But Dunn said weight, or more specifically lack of it, also counted. In scoring, a car's time was divided by that of the fastest time, and its weight was divided by the lightest car.
"I won because of weight," Dunn said. "I had the lightest weight."
His car was made of Styrofoam with metal axles turning in small plastic straws, Dunn said.
Also factoring into the competition was how straight cars traveled because there were no rails on the ramp, Dunn said. Those cars that went off the side didn't get their times scored.
Fellow junior high enhanced-learning students Adrian White and Ella Mozier finished third in the competition with a car White designed and Mozier entered.
Bringing home a second-place medal in the catapult competition was a team of enhanced-learning students Jacob Bailey, Joss Bathke, Britten Coates and Joke Grossner. Coates said the object of the competition was to get table tennis balls in a cup 7 feet away. The team did that better than any other competitor.
"We got four balls in the cup," Coates said. "Nobody else had more than two. But we were second because the judges said another team's design was more creative. It had some things painted on it."