Baldwin girls fall in overtime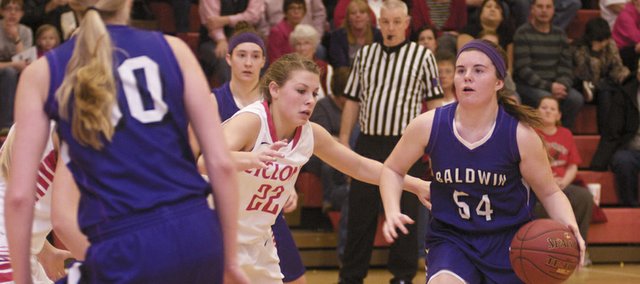 OTTAWA — The Baldwin High School girls ended a four-game road trip Friday with a 45-29 overtime loss to Ottawa.
After a close first half, the visiting Bulldogs scored the first seven points of the third quarter to take a 28-20. Ottawa steadily chipped away at the lead, going up, 36-35, before Baldwin senior Hailey Cope hit one of two free throws with 2:30 remaining in regulation to knot the game. After several empty possessions by both teams, Baldwin got the ball with a little more than a minute to play in regulation and held for the final shot. The Bulldogs game up empty when senior guard Katie Jones driving jumper in the lane was off the mark.
A little drama was then added to the ending when Baldwin junior Maddie Ogle was called for a foul with as time expired. An extra period was assured when Ottawa's Angel Natt went to the line for a two free throws with no time on the clock.
Natt redeemed herself by scoring three points in the Cyclones first two overtime possessions. The dagger for the Bulldogs, however, may have been a timeout the officials allowed in what looked like a Cyclone turnover with 1:58 to play and Ottawa leading, 40-37. Natt scored 18 seconds later to give Ottawa a five-point advantage.
Ottawa 45, Baldwin 39 overtime
Ottawa 11 9 7 9 9 – 45
Baldwin 13 8 10 5 3 – 39
Ottawa scoring: Lauren Davidson 2, Angel Natt 14, Kylie Foster 2, Brette Moore 11, Corie Fischer 16
Baldwin: Maddie Ogle 6, Madeline Neufeld 2, Katie Jones 16, Corey Valentine 4, Alexia Stein 5, Hailey Cope 6