Ottawa tops Baldwin boys to take over first in Frontier League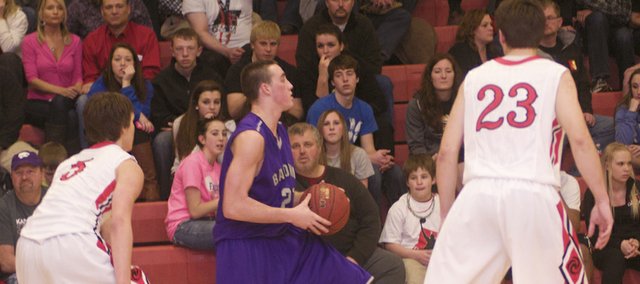 OTTAWA — Something familiar and something new plagued the Baldwin High School boys in a 52-40 Friday loss to the Ottawa Cyclones.
The familiar was the 3-2 zone defense Ottawa successfully deployed. Baldwin has seen a steady diet of zone in recent games as teams look to nullify the Bulldogs' athleticism. The new was the uncharacteristic 17 turnovers the Bulldogs committed.
"That was the story of the game," Baldwin coach Dustin Leochner said. "It was just lazy passes and trying to force things."
His team settled for too many outside shots in first half, but did a better job of attacking the zone inside in the final 16 minutes, Leochner said.
Baldwin never had the chance to force Ottawa out of the zone with the lead. Ottawa junior center Quentin Blaue scored the first of his 19 points in the game with a three-pointer on the Cyclones first possession.
Ottawa went the locker room at half with a 25-18 advantage. Baldwin clawed to within a point at 35-34 with 6:25 remaining in the game, but the Bulldogs turned the ball over once again when it had the ball with the change to take the lead. Ottawa junior Dayne Jung then converted a contention three-point play that blunted the Baldwin run.
Ottawa finished strong, scoring 11 of the games last 13 points, including four free throws in the last minute when Baldwin was forced to foul.
The game was for the Frontier League lead. With the win, Ottawa swept the season series and is now 8-2 in the league play while Baldwin fell to 7-3. It also completed a four-game road swing for Baldwin in which it went 2-2.
Baldwin will complete its regular season next week with a Tuesday game against Spring Hill and a Friday senior night contest against De Soto.
Leochner anticipated Spring Hill will play man defense but predicted the Bulldogs will get another chance to work against the 3-2 zone in the De Soto game. That could be important because Baldwin may get another crack at Ottawa in the sub-state to be played in Baldwin the following week, Leochner said.
Ottawa 52, Baldwin 40
Ottawa (13-5, 8-2) 9 16 10 17 – 52
Baldwin (15-3, 7-3) 7 11 14 8 – 40
Ottawa scoring: Dayne Jung 5, Cole Bunce 6, Quinton Blaue 19, Jake Matney 7, Isaac McCullough 13, Trey Rich 2
Baldwin: Cornell Brown 7, Tim Craig 5, Chad Berg 7, Luke Fursman 9, Jackson Barth 2, Michael Burton 8, Quinn Twombly 2