Baldwin City area students earn academic honors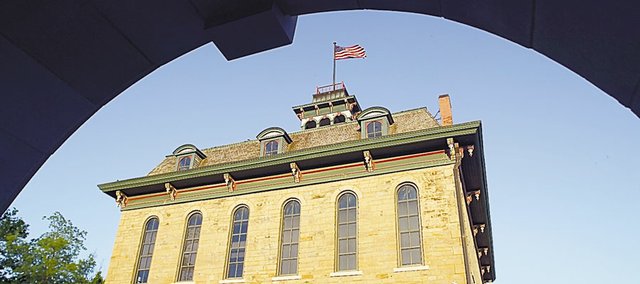 The following Baldwin City area students earned academic honors at their respective colleges for the 2013 fall semester. They were:
Baker University dean's list (requires GPA of 3.5 or higher) from Baldwin City: Olivia Beins, Alan Callahan, Clinton Chapman, Amanda Ciambrone, Kyrstie Ehm, Sercan Gunbatar, Asher Hannon, Melinda Hipple, Lisa Kent, Madison Kristoffersen, Zachary McElmurry, Andrew Morgan, Samantha Oehlert, Kyle Pattrick, Michael Preut, Samuel Richards, John Robbs, Sierra Wallace and Bryan Williams. From Wellsville: Sarah Baker, Kelli Higgins; Kayla Kohn and MacKenzie Sammons.
Simpson College, Indianola, Iowa
Louis Joslyn, of Baldwin City, president's list (4.0 GPA);. Abbigayle Carson, of Baldwin City, dean's list (3.70 to 3.99 GPA).
Aliva College, Kansas City, Mo.
Ashli Watson, Wellsville, dean's honor roll (3.5 GPA or higher).
Washburn University, Topeka
First-year experience scholars (first semester full-time students with 3.0 or higher GPA). Baldwin City: Kaitlyn Christie, social work; Radie Keller, kinesiology; and Audrey Osborn, nursing. Wellsville: Mikayla Douglas, mass media; William Qualls, psychology.
William Jewell College, Liberty, Mo.
Bethany Michelle Swain, junior, psychology; Baldwin City, dean's list (3.5 GPA or higher).
Freed-Hardeman University, Henderson, Tenn.
Isaac Smith, junior, Baldwin City, pre-nursing, dean's list (3.4 GPA or higher); Bailey Smith, freshman, Baldwin City, president's list (4.0).
Ottawa University
Baldwin City: Jasmine Brown, dean's list, 3.5 or higher GPA with minimum of 24 hours the last two semesters hours; Chole Kueffer, dean's honor roll, 3.5 to 4 GPA with minimum of 12 hours the past semester, Jenny Robbs, dean's honor roll; and Abby New, dean's list.