Late three-pointer dooms Baldwin girls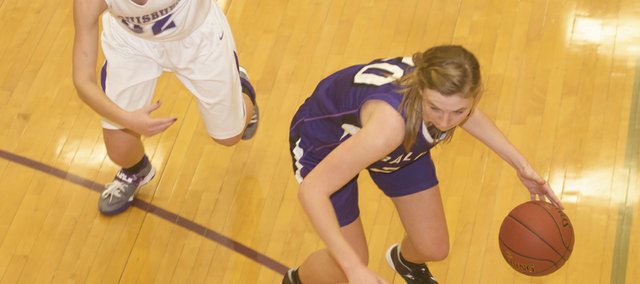 The Baldwin High School girls suffered another heartbreaking loss Tuesday when Louisburg senior guard Kacie Geiman connected on a three-pointer with five seconds left in the game, giving the Wildcats a 62-59 victory.
Louisburg trailed by 52-43 entering the fourth quarter before mounting its late rally.
The Bulldogs jumped out to an early lead behind the hot shooting of senior Hailey Cope, who knocked down two of her three three-pointers in the first quarter. Baldwin lead 16-12 after the first quarter and continued to build the advantage through the third quarter.
The loss was similar to those earlier this season to Bonner Springs and Spring Hill, in which the Bulldogs watched leads slip away in the fourth quarter.
"We're really having trouble closing things out," coach Bob Martin said. "We can't put people away. We came in and played a really good team and had them were we wanted and couldn't put it away."
Cold shooting and a player Martin said may be the league's best doomed the Bulldogs Friday in De Soto.
Baldwin's offense stalled in a 40-28 loss to the De Soto Wildcats after Bulldogs and Wildcats traded the lead in the game throughout the first half. De Soto wrestled away the lead for good at 18-17 with 1:16 remaining before halftime.
Once De Soto got a cushion in the third quarter, Wildcat coach Jim Bonar was content to spread the floor and run the offense through his 6-1 daughter, Megan Bonar, on the perimeter. The strategy worked, keeping the ball away from Baldwin and also picking up numerous Bulldog fouls.
De Soto went to the line 33 times in the game, with 21 attempts coming in the second half.
Meanwhile, Baldwin only scored nine points in the second half, despite numerous shots in front of the rim.
Baldwin will look to get back in the winning column Tuesday at Ottawa. The game starts at 6 p.m.