AARP

service helps Baldwin City residents with tax returns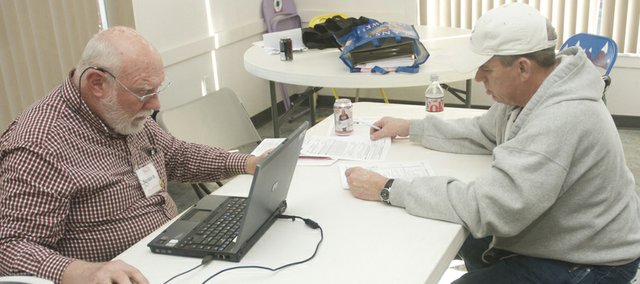 Robert Quinn reached into his pocket Tuesday for his reading glasses to review the tax return an AARP Foundation Tax Aide had just completed for him at the Lumberyard Arts Center.
The retired 57-year-old Baldwin City man said he prepared his own taxes while in his 20s but started having them professionally done after he got married and had children.
"Now, I'm kind of out of whack with everything," he said. "It's easier to get them prepared.
"It feels good to get them done. And I'm going to get a little back, so that's good."
Quinn was one of 12 individuals or families taking advantage of the free tax service the AARP volunteers provided Tuesday at the Lumberyard, said Gordon Montney, AARP Tax Aide Baldwin City coordinator. The free service is offered from 12:30 to 4 p.m. Tuesdays at the Lumberyard by calling the Baldwin City Public Library at 785-594-3411 to schedule an appointment, he said.
Those familiar with the Baldwin City service in the past would notice it is only offered one day a week this year, instead of the usual two, and is at the Lumberyard rather than the library. Both those changes trace to the ongoing expansion project at the library, Montney said. To make up for the lost day each week, the service is bringing another computer to Baldwin City for volunteers to use, he said.
"We expect to cover somewhere around 130 people in Baldwin City this year," he said.
Volunteers for the program complete a four-day training session before taking a test they are required to pass, Montney said.
"They volunteer because they like helping others," he said.
Helping Tuesday in Baldwin City was Sarah Merriman, AARP Foundation Tax Aide district coordinator for Douglas, Franklin and Jefferson counties. The retired music teacher said it was her seventh year of volunteering for the service.
"I just love to do taxes," she said as those near her started laughing. "No, I really do. I like to interact with people and all the volunteers. I answer calls during the offseason, too. That's an honor I get for being a district coordinator."
The service program is open to more than seniors or retirees, Merriman said. 

"We can help low- and moderate-income people, with special attention given to those older than 60," she said. "But really we can help anyone who fits our training."
The AARP volunteers aren't trained in doing tax returns involving rental or farm income, Merriman said. Although the volunteers can prepare taxes with itemized deductions, those will complicated returns should seek out professional tax preparers with the training and the time to give the attention the returns deserve, she said.
"We need to move people through," she said. "We can't take that long on a return."