Face to Face: Baldwin City Police Officer Kim Springer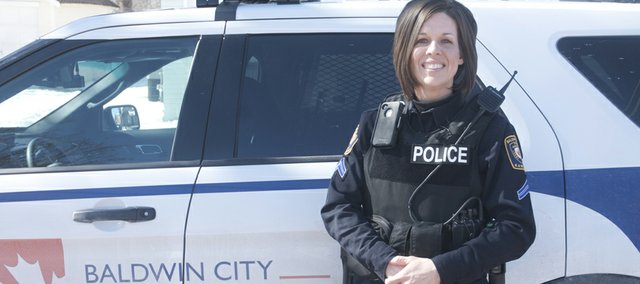 Name: Kim Springer
Born: Belleville, Kan., but grew up just across the state line near Superior, Neb.
Education: Graduated from Superior (Neb.) High School and attended for a time Chadron State University. She later graduated from the Kansas Law Enforcement Training Center.
Family: Married to Chris Springer. Five children: Kambree, 15; Noah, 13; Sterling, 11; Jacob, 9; and Brylee, 9.
Occupation: Corporal with the Baldwin City Police Department. "I moved here in 2005. I got hired on the police department after I finished the academy."
Hobbies: Decorating cakes and working out. "I'm in training now for the fundraiser boxing competition Guns vs. Hoses of police officers fighting firemen. I applied for events in Kansas City and Wichita, but I haven't heard anything."
Ideal job growing up: Being a judge. "The appeal was being able to enforce the law and get criminals off the street."
Digging deeper: Springer said she first worked in law enforcement at Republic County Jail. The sheriff encouraged her to become a deputy and she was soon on patrol. She later enrolled at the Kansas Law Enforcement Training Center, where she roomed with former Baldwin City Police Officer Kristen Dymacek. "She told me how much she enjoyed working here and talked highly of the town. After graduating, I came down and applied. I was hired two weeks later."
The best part of the job was being able to see the differences police officers can make in the community and the lives of its citizens, Springer said. The downside is incurring the resentment of fellow residents for doing her job and enforcing the law.