Baldwin City school board may increase $75 transportation fee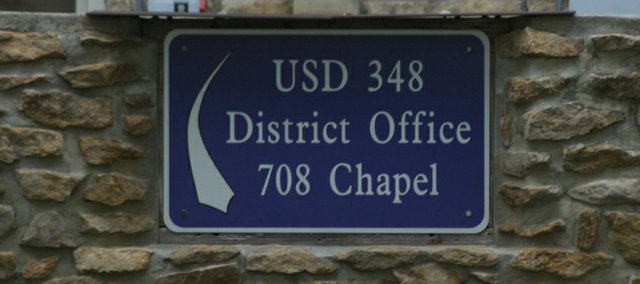 In anticipation of another summer of grim budget deliberations, the Baldwin school board started consideration Monday on how it might find additional dollars or cut costs.
District director of financial operations Cynde Frick told the board that Gov. Sam Brownback's proposal presented last month at the start of the legislative session would provide the district with just $30,000 in added state aid for the 2014-2015 school year.
That would mean another round of belt tightening when the board approves a budget in July for the next school year. Frick provided the board with a number of ways the district could cut spending and one possible way to raise revenue, without giving the board a recommendation on a specific amount to trim or raise.
Last summer, the board agreed to end free busing of students living within 2.5 miles of their schools and started charging an annual fee of $75 to transport those students. Frick said that was considerably less than other districts in the area and suggested the board might want to increase the fee.
A look at how the district's textbook, athletic and technology fees compared to those of other districts found they were priced appropriately, Frick said.
Possible cost-cutting measures Frick mentioned were eliminating unspecified teacher and classified staff positions, ending the district's contract with Creekwood Lawn Co. of Lawrence to mow district grounds with district maintenance personnel taking over the task, and selling the house on the Rhulen property west of the soccer field for removal or tearing it down to save on insurance and utility fees.
Frick and Superintendent Paul Dorathy said they presented the list for the board to consider for the next month with the assumption they would hear from parents, teachers and staff. There would be further discussion at the March meeting with the added suggestions of building principals, who would be meeting on cost-saving measurers in the coming days, Dorathy said.
The board learned that one anticipated 2014-2015 budget hit, covering the cost of providing health insurance to paraprofessionals in the East Kansas Cooperative in Education under the Affordable Health Care Act's mandates, could be deferred until the next year. Frick said it was recently learned that those employers not providing insurance on a schedule corresponding to the calendar year would have until Jan. 1, 2016, to provide coverage. Her understanding now was that because the special education cooperative's health insurance contract runs from October through October, the cooperative would not have to provide paraprofessionals coverage until October 2016.