Baldwin High School
AP

art students showing at Lumberyard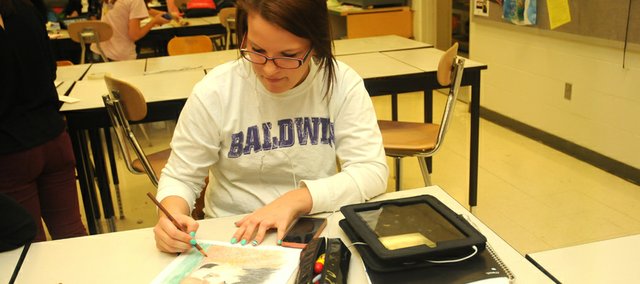 Sophia Brich admitted last Thursday a colored-pencil drawing that she was finishing, with left side of her face juxtaposed with the right side of Michael Jackson's face, told something about her.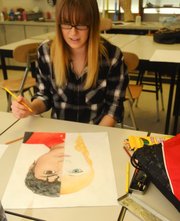 "I have a slight obsession," she said of the late pop superstar.
The drawing is one of a series of self-portraits exploring moments of her life Brich is doing in an advanced placement drawing class offered at Baldwin High School.
The works of Brich and classmates Jenna Irey, Grace Mader, Katie Langhehr, Ashton Temple, Katelyn Johnson, Hailey Haskell, Allison Stieffel, Morgan Lober, Ann Richardson and Elizabeth Verhaeghe are now on display at the Lumberyard Arts Center as part of the annual art show of Baldwin High and Junior High school student work. There will be a reception for the student artists from 6 to 8 p.m. Thursday at the Lumberyard.
Brich, who plans to study art at Johnson County Community College next year, said she would be interested to see how her work was received.
"I love the opportunity to really show what we are doing this year," she said. "I think the fact the arts are getting more recognition is wonderful. I like when people see my work and hopefully get further into my art."
The show is an opportunity for viewers to enjoy the work of young artists while gaining insight into their creative processes through the artists' statements they provide for the exhibit, said Baldwin High School art instructor Christy Carlisle.
The statements were also important to the class, which will earn the students college credit, Carlisle said. Students will include the statements with portfolios of work from the class they will share as they seek entry to colleges. Among the course's requirements is a yearlong series of 12 themed works, such as Brich's self-portraits.
The students in the class all have career aspirations in such art and design careers as architecture, graphic design, art therapy or art education, Carlisle said. The students have accepted the challenge of the course to improve their skills while exploring their chosen themes, she said.
"They make me work," she said. "The requirements are pretty strenuous, but they are building portfolios that are already getting around."