Baldwin wrestlers three-peat as league champs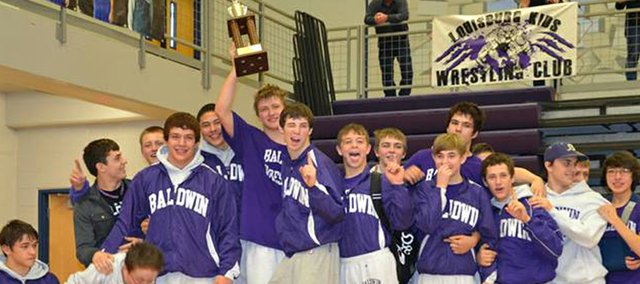 The Baldwin High School boys wrestling team won its third-straight Frontier League title, going 6-0 in dual meets Friday and Saturday at Louisburg against the other league teams.
In a repeat of last year, Baldwin faced off in the meets final match against an undefeated Spring Hill team for the title. Baldwin prevailed in the heads up match against the Broncos, 39-27.
Baldwin started the tournament strong with a 3-0 showing Friday. Baldwin easily defeated Eudora (72-12), Louisburg (66-6) and Ottawa (53-21) on the meet's opening night.
The Bulldogs received a bye in Saturday's opening fourth round before defeating De Soto 65-17 in its first match of the second day. Next up was Paola, the meet's third-place team. The Bulldogs best the Panthers, 50-16.
Frontier League Dual Results
Guaranteed Places
1st Place - Baldwin
2nd Place - Spring Hill
3rd Place - Paola
4th Place - Ottawa
5th Place - Louisburg
6th Place - Desoto
7th Place - Eudora
Round 1
Baldwin defeated Eudora 72-12
Round 2
Baldwin defeated Louisburg 66-6
Round 3
Baldwin defeated Ottawa 53-21
Round 4
Baldwin bye
Round 5
Baldwin defeated Desoto 65-17
Round 6
Baldwin defeated Paola 50-16
Round 7
Baldwin defeated Spring Hill 39-27