Cold shooting dooms Baldwin girls at De Soto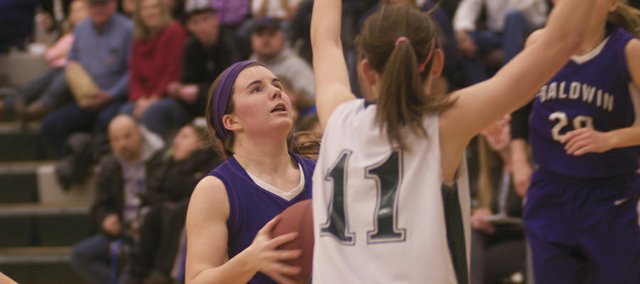 The Baldwin High School girls suffered a cold shooting second half in a 40-28 loss to the De Soto Wildcats.
The Bulldogs and Wildcats traded the lead in the game throughout the first half before De Soto wrested the lead for good at 18-17 with 1:16 remaining before halftime.
Once De Soto got a cushion in the third quarter, Wildcat coach Jim Bonar was content to spread the floor and run the offense through his 6-1 daughter Megan Bonar on the perimeter. The strategy worked, keeping the ball away from Baldwin and also picking up numerous Bulldog fouls. De Soto went to the line 33 times in the game, with 21 attempts coming in the second half.
Meanwhile, Baldwin only scored nine points in the second half, despite numerous shots in front of the rim.
Baldwin will look to get back in the winning column Tuesday at Ottawa. The game starts at 6 p.m.
De Soto 40, Baldwin 28
De Soto: 10 11 9 10 -40
Baldwin: 10 9 4 5 - 28
De Soto: Tanith Beal 7, Tori Marshall 5, Kristen Saucerman 6, Megan Bonar19, Koren Hobbs 3
Baldwin: Karina Steinke 2, Maddie Ogle 3, Katie Jones 7, Corey Valentine 3, Kyna Smith 5, Alexia Stein 4, Hailey Cope 4