Face to Face: Baldwin High School activities director Gary Stevanus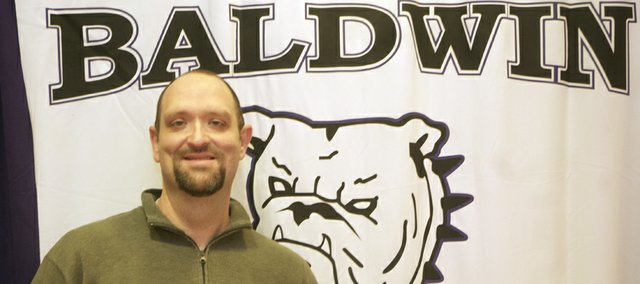 Name: Gary Stevanus
Born: Ottawa. Attended Ottawa High School
College: Two years at Highland Community College; bachelors degree in sports training from Kansas University; and master's degree in sports management form KU.
Occupation: After receiving his bachelor's degree 17 years ago, Stevanus got a job as athletic trainer at Baldwin High School through OrthoKansas. "I've been here ever since."
Family: Married to "Baldwin City native" Allison Wagner Stevanus. The couple have two children, Jake, who will be 6 on Monday, and 3-year-old Emily.
Recreation: Stevanus says he works "way too much," but does take time to watch and follow KU athletics and his favorite pro teams, the Chiefs and the Royals. He also likes to read and spend time with his family.
Dream job growing up: "I wanted to be an athletic trainer for a major college or pro team."
Digging deeper: The most challenging part of his job is actually having two. Stevanus is both athletic trainer and activities director for Baldwin Junior High and High School. Being a trainer and attending athletic events is time consuming, he says.
The part of his job he dislikes the most is rescheduling games and events postponed by weather, while the best part is watching and helping student athletes succeed, he said.
Stevanus has been able to do that a lot this year, as the boys cross country team won the 4A state title, the girls finished second, and the football team and boys soccer teams won Frontier League titles and advanced deep into state. The volleyball team had its best season in years, the girls basketball team won the early season Bulldog/Wildcat Classic, and the boys basketball team is off to a 12-1 start.
"It's a great year to be an athletic director," he said.