Outgoing Baker president delivers state of the university address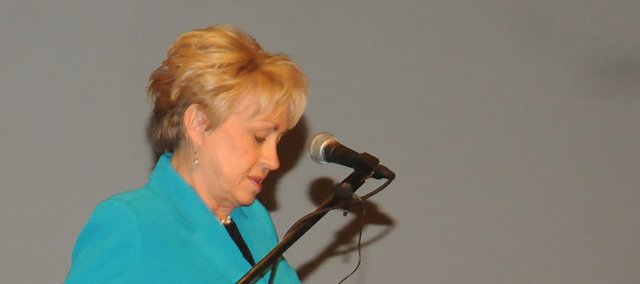 Outgoing President Pat Long took the opportunity Tuesday during her final state of the university address to give an emotional acknowledgement to the students, faculty and staff of Baker University.
Long addressed the university's Founders Day gathering on the school's Baldwin City campus to an audience that included Lynne Murray, the current vice president of Gallaudet University in Washington, D.C. who will take over July 1 as Baker president.
It was Long's eighth state of the university address since she left a deputy chancellor position at the University of Missouri-Kansas City to become Baker president in 2006. She will be leaving Baldwin City with her husband, Dennis, for retirement in Missouri in June.
As might be expected in an address from a president with four-and-a-half months left on her tenure, Long's remarks were without announcements of initiatives or goals. Instead, the president elaborated on the strengths that allowed the school to grow and prosper since 13 Methodist ministers met in a frontier cabin to found the first university in Kansas territory in 1858.
Baker has persevered through the Civil War, two world wars, the Great Depression and several recessions, Long said, while noting the number of Methodist universities today stands at just 119, from a peak of 839 schools. Although some are still around without a Methodist association, many have shut their doors forever, she said.
"For many of us in this room, we weren't raised or we didn't have an affiliation with the Methodist Church," she said. "But once we came to Baker, we realized those United Methodist traditions and beliefs are what forge our values. They forged our culture. They are what we live by every day."
Another factor in Baker's survival was the willingness and courage its leaders have demonstrated in accepting change and adapting, Long said.
"A clear vision gives direction and a clear vision gives hope," Long said. "And in each decade there have been decisions that had to be made that lead us to clear vision and hope."
Long cited such examples as former university president Ralph Tanner's push for international partnerships and education and his successor Dan Lambert's expanding Baker to multiple schools and campuses, which led to the school of nursing in Topeka, the school of education and the school of professional and graduate studies. That latter decision was greeted with criticism, concern and fear, but the expansion is now paying off for Baker and the communities it serves, Long said.
"All of those schools have added to our revenue, which was sorely needed, but they also added to and enhance our reputation and recognition," she said. "Most importantly, they have added to the knowledge needed by nurses, business leaders, teachers and school administrators."
Baker's foremost strength is its people, Long said. With a catch in her voice, she praised its faculty, board of trustees, alumni and staff, from administrators to maintenance personnel.
"It's people like you in this room who throughout our 156 years of history are really the differentiating factor," she said. "You give and give and give some more.
"Quite frankly, it is the relationships with people like you I will miss the most. You are the heart and soul of Baker. You have made my eight years here a joy."