Hot Eudora hands Baldwin season's second loss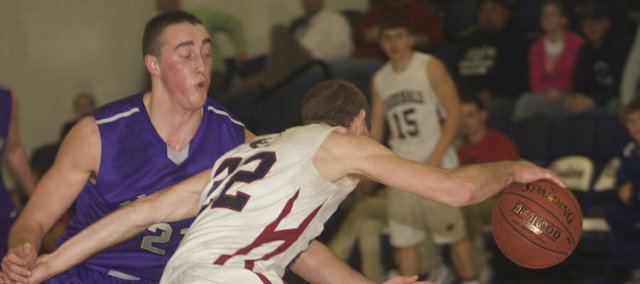 The Baldwin High School boys fell behind 5-0 early in their Tuesday game at Eudora and were never able to take the lead in a 57-51 loss to their Douglas County rival.
The Cardinals ended the first quarter with a 18-11 advantage and held the Bulldogs at arm's length the rest of the game. Doing most of the push back to Baldwin's comeback attempts were senior Andrew Ballock and his brother, freshman Matthew Ballock. The younger brother hit three three-pointers in the game's first 11 minutes to get Eudora off to its hot start, and the older sibling scored 19 points on the night it was announced he broke the Eudora High School individual scoring record.
The loss dropped Baldwin to 13-2 overall and 5-2 in the Frontier League. Eudora entered the contest with a five-game winning streak and improved its record to 10-4 overall and 6-3 in the league.
The lanky, athletic Ballock brothers presented match-up problems for his team, Baldwin coach Dustin Leochner said. He said they and sophomore guard Austin Downing make the Cardinals a difficult team to turnover, which is a big part of Baldwin's game.
Leochner said the Bulldogs were able to shut down the younger brother in the second half, but Andrew Ballock scored nine second-half points and fouled out two Baldwin defenders, seniors Luke Fursman and Michael Burton.
With the exception of some early transition baskets that contributed to the Bulldogs' early hole, he was happy with the Bulldogs' effort, Leochner said.
The Bulldogs will make the second stop of its four-game road trip with a game Friday at De Soto.
Eudora 57, Baldwin 51
Eudora (10-5, 6-3)
Baldwin (12-2, 5-2)
Eudora: Skyler Shockley 7, Andrew Ballock 19, Austin Downing 10, Mitchell Ballock 18, Zach Scroggin 3
Baldwin: Cornell Brown 10, Tim Craig 2, Chad Berg 12, Jackson Barth 6, Michael Burton 4, Quinn Twombly 17