Baldwin girls take down rival Eudora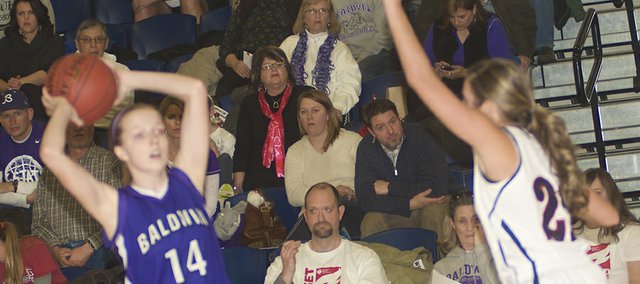 The Baldwin girls scored an easy 55-34 victory road Tuesday against rival Eudora.
It was the Bulldogs' second comfortable win against Eudora, having downed the Cardinals last month by 54-37 score.
Tuesday's game was decided early as Maddie Ogle scored six of her game-high 19 points as the Bulldogs built a 13-4 advantage at the end of the first quarter. Things further out of hand from there as Baldwin built a 26-10 halftime lead.
Joining Ogle in double figures were senior guard Katie Jones with 12 points and junior center Alexia Stein with 10.
"It was a pretty consistent effort," coach Bob Martin said. "I thought we ran the floor well."
The game was the first of four-straight the Bulldogs will play on the road. They will make the second stop on the tour Friday at De Soto. The game tips at 6 p.m.
Baldwin 55, Eudora 34
Baldwin 13 13 18 11 - 55
Eudora 4 7 10 13 - 34
Eudora: Corrine Yoder-Mulkey 10, Abby Richeson 8, Cierra Richeson 2, Liz Kendall 2, Makaila Garcia 6
Baldwin: Maddie Ogle 19, Madeline Nuefeld 2, Katie Jones 12, K. Smith 4, Alexia Stein 10, Hailey Cope 6.