Baldwin City man completes nearly 9-month trek of Appalachian Trail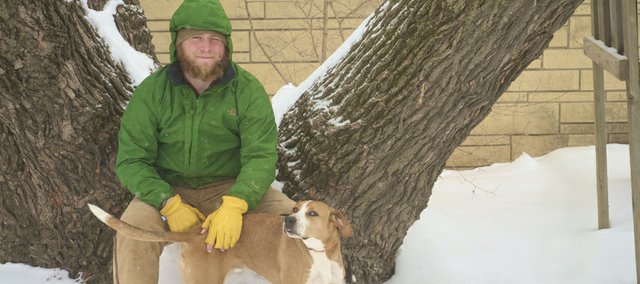 If your ambition is to walk the length of the Appalachian Trail, Luke Weaver advises you take a dog with a good nose and pack plenty of Reese's Peanut Butter Cups.
Weaver gained those insights from walking the 2,185-mile trail that spans the nation's mountainous Eastern spine. He started his hike May 15, two days after graduating from the North Central Kansas Technical School in Beloit. The 24-year-old son of Baldwin City's Rick and Vickie Weaver finished the journey last week.
The idea of walking the trail that travels through 14 states from Georgia to Maine gripped Weaver when he was facing the possibility of never walking again. That fearful possibility entered his life after surgery to repair a right knee injured while playing football at Ottawa University.
"I had three kinds of staph infections below my knee and going up my femur," he said. "The fever and infection kept coming back. I had to have nine different surgeries. In one, they bored out my bone and filled it with antibiotic cement."
His long struggle, which included "scary talk" about amputation, gave Weaver a chance to research the Appalachian Trail, which first captured his imagination as a sixth-grader. The trail, established in 1937 is the longest in the world. Each year, from 1,800 to 2,000 hikers attempt to become "thru walkers" by trekking its length. It's estimated about a quarter realize that goal.
"I had a year to think about it," Weaver said. "I rehabbed by hiking trails around here and mountain biking. There's really nothing like it to prepare you for the terrain, the altitude and the bugs."
Although Weaver's bone infection "will never really go away," he had two years with no fever or symptoms when he took his first steps on the trail in mid-May.
"I felt like I had to hike the Appalachian Trail to get better," he said. "The crazy thing is how many people you meet on the trail who have similar stories. They had a broken back, a leg injury or some hardship and thought they would never walk again."
Helping him get started in northwest Georgia were two friends, Brian Hubbel and Anthony Ciambrone. Hubbel was welcome company through 500 rugged Southern miles before suffering an ankle injury in Virginia, Weaver said.
Weaver's companion for much of the remaining journey was his dog, Charlie, who his father and sister, Becky, brought when they joined him for July hikes in Virginia.
He started too late in the season to trek straight north to the trail's northern terminus in Maine, Weaver said. So in late August, his father and mother drove him from the trail's mid-point at Front Royal, Va., to its northern-most point of Mt. Katahdin, Maine, so he could complete his trek by hiking south.
"Mt. Katahdin was probably the toughest climb," he said. "Going south in Maine was like walking into civilization. On the northern section when you got to the top of a peak, all you could see were trees. You feel like the only person in the world out there. As I went farther south, I started seeing signs of civilization."
The trail changes character along its route with its mountainous northern and southern sections contrasting with the gentler slopes of the Shenandoah National Park in Virginia and flat woodlands of New York. Volunteers maintain its complete length and their efforts vary as much as the terrain, Weavers said. Stretches of well-defined improved trail with lots of hikers near urban centers give way to rugged lonely sections where hikers have to pull themselves up slopes by roots while keeping an eye out for the 2-inch-by-4-inch "blazes" tacked to trees that mark the route.
"The problem is the blazes are white and can be hard to see when a tree is blasted with ice or they get covered with snow," Weaver said. "A couple of times I got lost and wandered 3 or 6 miles trying to find the trail. I trusted my hound dog with a real good nose. I wouldn't have made it without Charlie."
He saw about 30 black bear along the route, one mountain lion and nearly stepped on a large rattlesnake, Weaver said. The bears were no problem after Charlie joined him.
"They've been hunted by dogs for hundreds of years, so when they smelled Charlie, they took off," he said.
He carried a sleeping blanket and tent, stopping for the night to pitch the tent under lean-to or three-sided shelters provided for hikers, Weaver said. In cold weather when freshly resupplied with food, he packed 60 pounds on his back and Charlie packed another 10 pounds of supplies on his carrier.
"In wintertime, it takes 5,500 calories a day to stay warm," he said. "I ate probably 30 Reese's Peanut Butter cups a day. I ate packs of Ramen noodles, instant potatoes, beef jerky — a lot of junk food, really."
Blizzards hit the East during Weaver's last months on the trail.
"Everyday, quitting crossed my mind," he said. "There was some pretty terrible weather and a couple of negative degree nights in January and February. There were some really close calls when I was worrying frostbite or hyperthermia would set in and worrying about my dog."
Loneliness was also hard to endure and made tempting the thought of being home with family and friends. Weaver said he went days without talking to anyone directly or by cell phone.
Those days were tough for the family, too, Rick Weaver said.
"Luke was good about trying to check in frequently via cell phone when he had reception," he said. "The toughest part was when we couldn't hear from him for a few days, and we'd see on the Weather Channel he was in an area under a storm watch."
Now home, he's readjusting to modern comforts.
"I having the hardest time sleeping on a bed," he said. "I can't sleep more than four or five hours. I wake up soaked in sweat. Charlie's fine. He's sleeping all the time and eating. He doesn't want to go outside."
On the trail, he noticed telecommunications towers on many peaks and now wants to put his technical education to work building them, Weaver said.
"I met some guys who did that when I was on the trail," he said. "It's dangerous but seems kind of neat, but I might think differently when I'm 650 feet off the ground."
As he stows away his gear, he's still unpacking what he gained from the nearly nine month adventure.
"It was definitely the biggest learning experience of my life," Weaver said. "I feel like I learned things about integrity and persistence. I thought I'd done difficult things and pushed myself hard, but it was a real eye opener. Doing it for my family was the biggest thing. I swear I would have quit if it weren't for them. I know they wanted me home, but I just felt like I had to do it for them."