Paola holds off Baldwin girls to remain unbeaten in league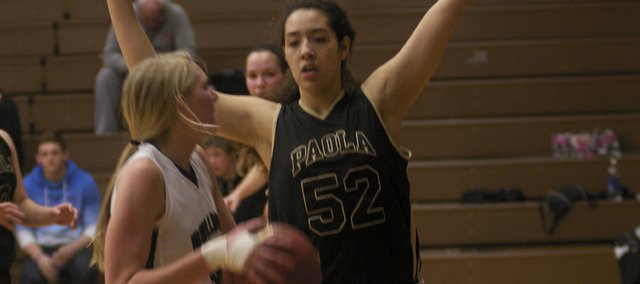 The Paola High School girls held off Baldwin, 45-41, to improve to 6-0 in the Frontier League.
Baldwin had a 13-6 advantage at the end of the first quarter and took a 17-13 lead to the locker room at halftime. Paola found its offense in the second half and limited the Bulldogs to just four points in the third quarter.
A technical on the Paola bench allowed Baldwin to cut Paola's lead to 40-37 with 47 seconds remaining before a Bulldog turnover preserved the victory for Paola.
"We had our chances," Baldwin coach Bob Martin said. "We had some good shots we didn't get to go down.
"We played very good defense in the first half. We kind of lost our focus in the third quarter. I'm proud of how they fought back in the fourth quarter."
Baldwin did hold Paola's 6-4 center Tiana Moria to eight points, with the Bulldogs' frontline of Maddie Ogle, Corey Valentine and Alexia Stein holding their own on the boards and score 10, 7 and 6 points, respectively. Martin said the Bulldogs looked to pressure Paola into turnovers and did force nearly 20 through a press and pressure man-to-man defense.
Baldwin will next play at 6 p.m. Tuesday at Eudora. The Bulldogs handled Eudora easily last month in winning, 54-37.
Paola 6 7 14 18 - 45
Baldwin (9-5, 3-3) 13 4 6 18 - 41
Baldwin scoring: Maddie Ogle 10, Katie Jones 16, Corey Valentine 7, Alexia Stein 6, Hailey Cope 2
Paola scoring: R. Edwards 12, L. Johnson 7, R. Paulsen 7, T. Williams 4, M. Lauden 13, Frederick 1, Tiana Moria 8