Baldwin boys hold off Paola to maintain first in Frontier League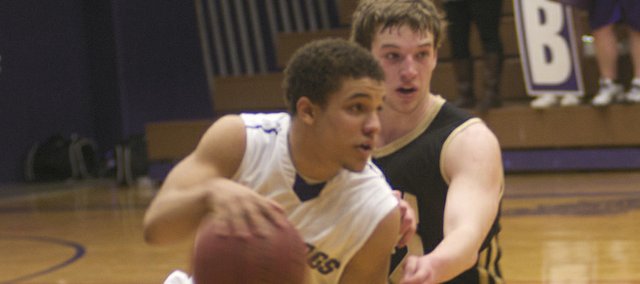 The Baldwin High School boys improved to 12-1 and stayed atop the Frontier League with a hard-fought 56-52 victory against Paola.
Baldwin took the lead for good when the Bulldogs outscored the visiting Panthers 10-1 from the 2:15 in the first quarter. Baldwin threatened to put the game away in the second quarter when it built a 26-15 led on a Chad Berg three-pointer with 3:19 to play in the half, only to see Paola go on a 12-2 run to reduced Baldwin's advantage to 28-27 at half.
The second half was more as the same as Baldwin built an eight-point lead and withstood several Paola charges led by 6-7 sophomore Mason McDow, who threw down two dunks in the second half while also connecting on a three-pointer.
"We talked at halftime about the next time we got up by eight or 10, we needed to follow up with a couple of stops and stretch it out a little," coach Dustin Leochner said. "We just couldn't do it through. They are a tough team to get away from.
"I told our guys I'm glad we're finished with them. They are big and super athletic. The have big guys who can shoot and finish at the basket."
Paola can also take care of the ball. The Panthers only turned the ball over six times against Baldwin's press and pressure half-court defense that is averages forcing 12 turnovers per game, Leochner said. Unfortunately for Paola, two of those turnovers came in the last minute as the Panthers looked to even the score.
The Bulldogs will play its next four games on the road, starting Tuesday at Eudora.
Baldwin 56, Paola 52
Baldwin (12-1, 5-1) 17 11 16 11 - 56
Paola (9-4 3-3) 12 15 9 16 -52
Baldwin: Cornell Brown 7, Tim Craig 5, Chad Berg 16, Luke Fursman 9, Michael Burton 6, Quinn Twombly 13
Paola: J. Criddle 11, C. Jorgensen 2, M. McDow 19, L. Wilson 12, C. Long 8