Neuenswander nominated for state honor for Baldwin City volunteer efforts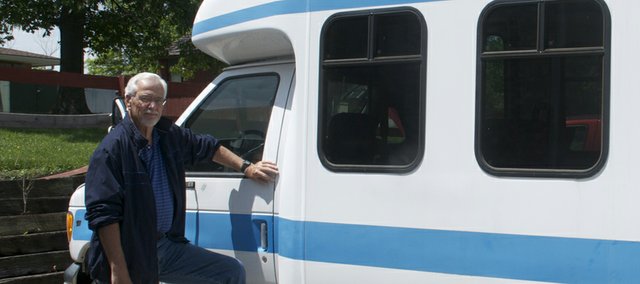 Bill Neuenswander will quickly dismiss any mention of his nomination for a statewide award for volunteerism.
"I'm just one of many people who contribute to worthy causes in this community," he said when asked about the nomination Thursday.
But ask Douglas County Senior Services resource development manager Tina Roberts about Neuenswander's value as a volunteer resource in the Baldwin City community, and you'll get a far more enthusiastic response.
"He's just got great connections," she said. "But what makes him the best is he has a heart of gold. He'll do anything for anybody."
Roberts said Douglas County Senior Services nominated Neuenswander for the Home Instead Senior Care's Salute to Senior Service Care Contest for the state's volunteer of the year. The 579-word profile she submitted on Neuenswander with the nomination can be found by following the "Vote for Bill" link on the agency's homepage at: dgcoseniorservices.org.
 Online voting will determine the winner of the contest, Roberts said. The deadline to vote is March 1.
"He's got the best story there (the contest website)," she said. "There are a couple of people from the Wichita area nominated. We need everybody in Douglas County to vote for him."
Should he win, $500 would be donated to the nonprofit charity of Neuenswander's choice. He would also move on to a national competition, which the chance to earn a $5,000 donation to his designated charity should he win.
The contest profile details Neuenswander's long history of volunteerism, which started with his helping found a community fund in Cheney before moving in 1980 to Baldwin City. The former superintendent of Baldwin City schools and dean of the Baker University School of Education helped start the Baldwin City Community Fund. He also remains active with the Baldwin First United Methodist Church Missions Committee senior service ministries, Baldwin City Rotary Club efforts, the Lawrence Interdenominational Nutrition Kitchen and the Baldwin City Community Food Pantry.
His latest project is the Baldwin Senior Wheels Program, which he was instrumental in starting in 2012. After learning transportation was the No. 1 underserved need of local seniors, Neuenswander organized fundraisers to help launch the service, recruited drivers and dispatcher Linda Russell and approached the Baldwin City Council and Douglas County Commission for funding.
Since the service debuted through a partnership with Douglas County Senior Services in June 2012, it has secured a new van with the help of the city and county, expanded service from three days a week to all weekdays and started offering rides to destinations other than those in Baldwin City and Lawrence.
When he was working to start the service, Neuenswander said community support would determine its success and the level of service it provided. The nomination for the Senior Service Care honor was a reflection of the support that has allowed the service to thrive and grow, he said.
"It's not about me," he said. "We couldn't do anything without the help of other people."