Baldwin High School wrestlers have successful weekend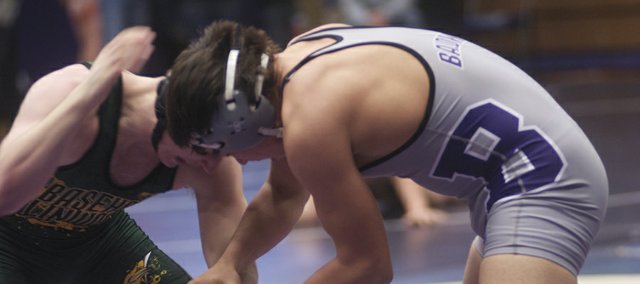 The Baldwin Bulldogs completed a successful weekend Saturday with a fourth-place finish in the Baldwin Invitational Tournament.
Finishing ahead of the Bulldogs at the tournament at the Baldwin Junior High School gymnasium were three ranked 4A teams, No. 1 Holton, No. 4 Goodland and No. 3 Prairie View.
The tournament performance came after Baldwin defeated Goodland and KC Piper in duals at a Friday event also at the BJHS gym.
The Bulldogs didn't get a first-place finish in its home tournament but did have eight wrestlers place. Three Baldwin wrestlers finished second, including senior Tucker Clark at 138 pounds, sophomore Owen Tuckfield at 160 pounds and Mario Garcia at 195 pounds. Tuckfield lost the championship match to Goodland's undefeated and top-ranked John Peden, who also won a matchup between the two in Friday's dual meet.
The Bulldogs also captured three third-place medals. Freshman Thomas Lisher earned his 25th victory of the year at 126 pounds, Jon Pratt defeated a Royal Valley foe for his third-place finish and Joel Katzer was third competing way over his actual weight at 285 pounds. Lisher won the "Gorriaran Award" for most falls in least amount of time. He went 4-1, winning every match by fall.
To have so many of our wrestlers battle their way through tough brackets to earn medals is a good sign. Most all of the brackets were full of competitors we'll see at league, regionals and state. We had some great matches with many of them.
Baldwin won eight of 14 matches to defeat Goodland in Friday's dual and scored a 38-31 victory. Coach Kit Harris said the Goodland dual featured hard-fought battles. Back-to-back pins from Clark and Pratt helped spark his team, the coach. Sophomore Joel Katzer was also big in claiming a 4-2 overtime victory against a previously undefeated and No. 2 ranked wrestler in the state, he said.
Baldwin defeated Piper, which only fielded wrestlers in three weight classes.
Baldwin was to have its senior night with at a dual meet Wednesday at home against Lawrence. The match, however, was postponed because of this week's storm.