Baker baseball coach Hannon resigns, accepts new job on Baldwin City campus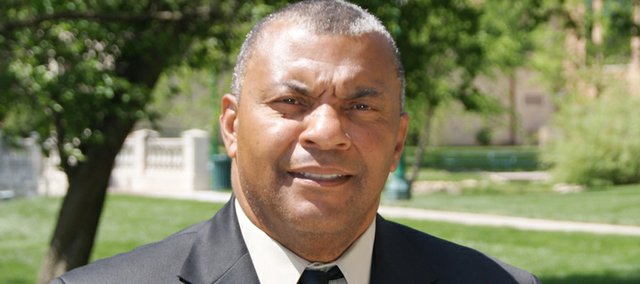 Theresa Yetmar, Baker University's director of athletics, announced Monday that longtime baseball coach and Class of 2012 Baker Hall of Fame member Phil Hannon will resign his coaching position at the end of the 2014 season to accept a post as the university's assistant director of development.
"Phil has been an integral member of our department for 14 years," Yetmar said. "He brings a voracious energy and positive attitude to work every day. He inspires trust amongst our staff and coaches. We could not be more pleased that Phil will now be playing an active role in fundraising for our institution."
Hannon will start in his new position July 1.
"It has come time for me to step up in another way to help the overall face of the university," Hannon said. "This advancement position gives me the opportunity to reconnect people to our special university. Like most of my classmates, I consider my time as a Baker student some of the best days of my life. I look forward to helping as many students as I can find success here, which means raising funds for every facet of the undergraduate experience — from academic departments to athletic facilities to, most importantly, student scholarships. This is an appointment that I am very excited about."
Baker President Pat Long said her first thought when Hannon told her that he was ready to retire from coaching was to keep him at Baker.
"I am so pleased he agreed to stay on to help in the advancement office," Long said.
Hannon will report to Patrick Mikesic, senior director for university advancement.
"I am thrilled that Phil will be joining the university advancement team and look forward to him making a similar impact with our entire student body, alumni, donors and friends," Mikesic said. "Phil embodies the spirit of Baker alumni everywhere."
Hannon came to Baker in the fall of 1982 to play football. He was then asked to play baseball that spring for coach Keith Hackett. He lettered four years in both sports, shining as a wide receiver and as an outfielder.
Hannon signed a contract to play professional baseball in the Chicago Cubs' organization after graduating from Baker. He started in center field for the New York Pennsylvania League champion Geneva Cubs in 1987, and the next year led the Peoria Chiefs of the Midwest League with 136 hits, 139 games played and 319 outfield put-outs.
His defensive prowess and understanding of the game earned the respect of former Major League legend and coach Jimmy Piersall. Hannon was hired to coach and teach young outfield prospects in the Cubs' organization.
Hannon enhanced his coaching skills and became a field manager for a total of three years in the minors before returning to Baker in 1999. Hannon has produced All-Conference players, including one Major League Baseball pitcher, and numerous All-Academic scholar athletes. His 2009 team received the NAIA-Buffalo Funds team Champions of Character award.
He is married to Charlene Potter Hannon, Baker Class of 1985 and a third-generation Wildcat.
"I never knew how deep orange would run in our family," Phil Hannon said. "On Charlene's side of the family our children are now fourth generation."
The Hannons have four children, Andrew (Class of '09), Aaron ('11), Annie ('11) and Asher ('16).
A national search for Baker's next baseball coach will begin in April.
"Phil has built a program that is respected within the HAAC and represented Baker in a first-class manner at all times," said Yetmar. "With Phil's involvement in our search process, I am certain we will find the right person to move our program forward."
The Wildcat baseball team will open up its 2014 season Feb. 15 in a doubleheader at Rogers State University in Claremore, Okla., and will have its home opener Feb. 25 against Sterling College.