Face to Face: Baldwin City Finance Director Brad Smith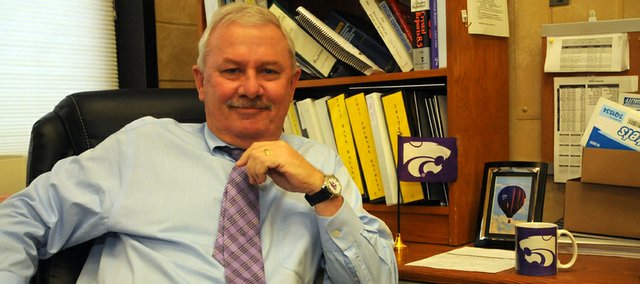 Name: Brad Smith
Born: Smith was born Dec. 22, 1953, at St. Lukes Hospital in Kansas City, Mo. He attended Shawnee Mission South High School in Overland Park. He now lives in Olathe and has lived in Johnson County long enough "to be considered an Old Settler."
College: Smith went all four years to Kansas State University, receiving an accounting degree in 1975.
Occupation: Baldwin City finance director. After college, Smith worked for the then big-eight and now big-four accounting firm of Price Waterhouse before starting his own computer website development and consulting business. After 20 years, Smith started working for the city of Spring Hill.
Family: Smith and his wife, Linda, have an adult daughter, Ashley, but no grandchildren "yet."
Recreation: Smith's corner desk in Baldwin City Hall is decorated with Powercat items, revealing his passion for K-State Wildcat sports teams. Smith said he is also an avid fisherman who will "fish everywhere there's water."
Dream job growing up: "I don't know that I had one. It wasn't accounting, that's for sure. Who grows up wanting to be an accountant?"
Digging deeper: Smith said he put his accounting degree back to work by taking a job with the city of Spring Hill in the depths of the recession. While there, he worked on loan in Baldwin City Hall because he was familiar with the city's software and was fortunate enough to be offered his position.
"I'm the city's first finance director and I absolutely love it," he said. "When I was leaving Spring Hill, the city administrator told me: 'Remember, all the decisions you make affect the citizens.' That's what I like about the job. For better or worse, we do have an impact on citizens."
Smith said budgets make municipal accounting much different from corporate accounting.
"We (the city) are all about the budget, and in the corporate world budgets are not done very often," he said.