Baldwin City wakes to snow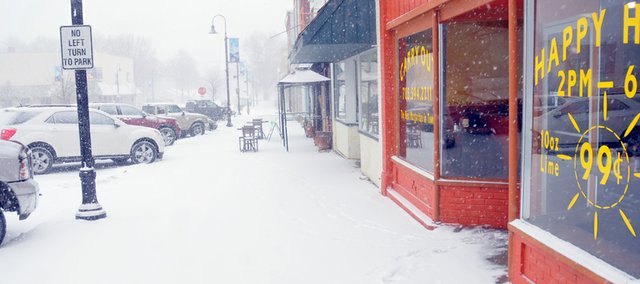 Baldwin City awoke today to the first flakes of a storm that is forecast to dump 8 to 10 inches on the area before ending Wednesday morning.
By 9 a.m., nearly an inch of snow was on the ground and accumulating quickly. Traffic is still moving easily on city streets pre-treated in advance of the storm. That is not likely to last long with snow coming down at the present rate.
Baldwin City Administrator Chris Lowe said Monday city crews would not get out to plow streets until the snow eased.
Early morning traffic was reduced with Baldwin USD 348 Superintendent Paul Dorathy's announcement Monday evening of the closure of a district schools and cancellation of all activities scheduled for today. The Baker University Baldwin City campus is also closed for today.
Also canceled for today was Baldwin City Municipal Court. Today's docket items will be scheduled for a March 11 court date.
The Douglas County area is expected to get 8-10 inches of snow today, according to the National Weather Service. A winter weather warning is in effect through 6 a.m. Wednesday. Wind chills are expected to fall to 10-20 degrees below zero tonight into Wednesday morning, with heavy winds anticipated.
"It's in its beginning stages now and it should last for much of the afternoon, probably with some tapering off in the afternoon or early evening," NWS meteorologist Shawn Byrne said Tuesday morning. "It'll lighten up a bit after that, with a maybe inch or so overnight. At that time, mainly the winds are going to be the concern."
Byrne said that this week's storm is likely to be Snowmageddon: Northeast Kansas Edition. "Provided we get the amounts we're calling for, this would be biggest storm this season, at least for Topeka and Lawrence," he said.
Byrne said the storm should be most intense, with snow falling at a rate of about 1.5 inches an hour, mid-morning and late afternoon today. That's also the time the wind is expected to pick up, with gusts of about 25 miles per hour causing blowing and snowdrifts. The winds will translate to low visibility on area roads this week.
Gov. Sam Brownback ordered state offices in the Topeka area to close today, prompting House and Senate leaders to cancel legislative business. Brownback said he's closing state offices in Shawnee County to keep roads as clear as possible of traffic once the storm hits.
Watch here for further updates on the storm throughout the day.