Heavy snowfall buries Baldwin City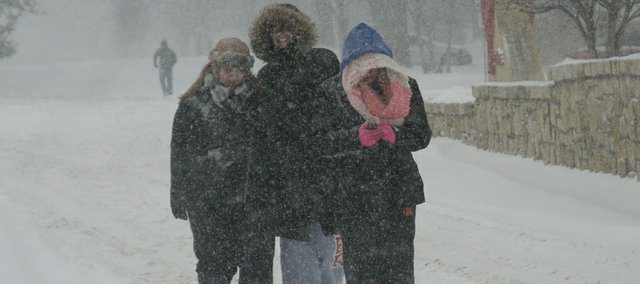 Shortly after noon with about 4 inches of snow on the ground from the season's biggest winter storm, Kwik Shop clerk Dana LeRow was busy ringing up customers lined four deep at the counter.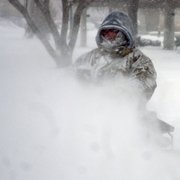 Speaking over a small front-end loader clearing the convenience store's parking lot of snow for the second time today, LeRow said the store had been busy all morning
"It's been steady," she said. "The snow doesn't seem to make much difference."
One customer, Kelly Meyer, said she made the trip form her Signal Ridge home to get snacks and movies from the CD vending machine in front the store.
"It was slick, but I'm used to driving on snow," she said. "This will be my last trip."
Traffic was steady on the city's main streets through early afternoon when the snow accumulation approached 6 inches. Helping keep vehicles off streets and roads early this morning was Baldwin USD 348 Superintendent Paul Dorathy's announcement Monday that district schools would be closed today and all activities canceled. The Baldwin City Baker University campus was also closed.
With snow forecast to continue into Wednesday morning, both Baker and Baldwin USD 348 canceled school for a second day in a row.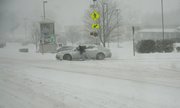 Baldwin City Administrator Chris Lowe said public work employees started plowing Tuesday morning the most heavily used streets with the city's four snow-plow equipped three-quarter ton pickups. As the snow tapered off, two dump trucks would be added to the effort to clear the widest avenues of High, Eighth and Sixth streets. At that time, the pickups would start working their way through secondary and residential streets.
Lowe expected those involved in snow removal tasks to be on duty 16 to 18 hours today and early Wednesday. The city attempts to manage overtime from storm cleanups by giving employees time off later in the week. That wouldn't be possible with the amount of work involved with the current storm.
"We will have overtime," Lowe said.
The Kansas Department of Transportation reports U.S. Highway 56 is snow and ice packed in the Baldwin City area.
Closings and cancellations
• Baldwin USD 348 schools closed, activities canceled
• Baker University campus closed
• Baldwin City Municipal Court canceled. Court docket continued until March 11
• Baldwin City Recreation Office closed
• Baldwin City Public Library closed
Wednesday: • Baldwin USD 348 schools closed, activities canceled
Also closed Tuesday were the Baldwin City Public Library and the Baldwin City Recreation Commission.
Shortly before noon, postal worker Cheryl Robinson loaded her four-wheel vehicle with mail behind one public building that remained open, the Baldwin City Post Office. Usually a rural route carrier, Robinson was helping with in-town deliveries today and was getting ready to start her second route.
Rural carriers would complete as much of their routes as possible, Robinson said. With snow forecast to continue until Wednesday morning and winds predicted to increase, rural routes might be more difficult to complete Wednesday, she said.
The Baldwin City Police Department's on-duty personnel were on the streets, driving the department's two SUVs patrol vehicles. Chief Greg Neis said he drove the department's Humvee home Tuesday night and would not have been able to make the trip to Eudora without a four-wheel drive.
There were no accidents reported Tuesday in the city, but Neis advised all residents to remain at home until city crews were able to clear streets. County road, such as 1055 to Lawrence, were snowpacked, he said.
Officials from the Douglas County Sheriff's Office and Kansas Highway Patrol also said they did not respond to an injury accident in the county.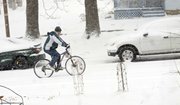 Dennis Shoemaker, a master trooper for the Kansas Highway Patrol, said highways in Douglas County remained snowpacked and "extremely hazardous" Tuesday evening. He suggested the roads may not be much improved until noon Wednesday.
As of 6 p.m. Tuesday, the Kansas Highway Patrol reported 94 property damage accidents, 11 injury accidents and 371 motorist assists statewide. It attributed one fatal accident, which killed two people in Crawford County, to the weather.
Jim Hanni, with AAA Kansas, said as of 8:15 p.m. the organization had received 282 calls for service statewide, 29 of which came out of the Lawrence area. He said most calls involved vehicles sliding off the road and becoming trapped in the snow.
Lt. Randall Cheek, a Douglas County Sheriff's Office spokesman, said his agency saw more of the same.
"The problems we've had have been pretty minimal," Cheek said.
The NWS's storm warning expires at 6 a.m. Wednesday.Wind chill values are expected to reach as low as minus 14 degrees during the day Wednesday and minus 20 at night.
Gov. Sam Brownback declared a state of disaster emergency for the entire state, which allows state resources to help communities and residents as needed after the storm.
The Lawrence Journal World contributed to this story