Baldwin City Chocolate Auction returns Sunday for 26th year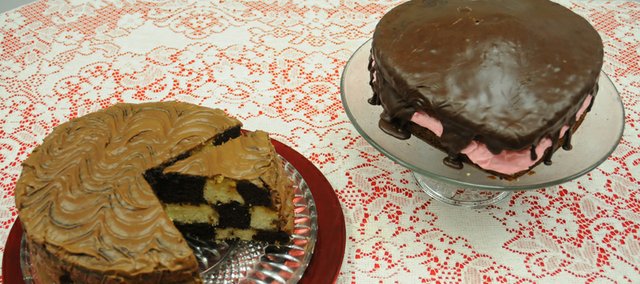 In its 26th year, the Chocolate Auction is enough of a community tradition to have its own traditions.
The annual art benefit will be Sunday at the Lumberyard Arts Center, 718 High St. Sandy Cardens, Lumberyard Arts Center board member, said the doors will open at noon for the silent auction of many food items and smaller artworks, and the live auction will start a 2 p.m.
If you go
What: 26th annual Lumberyard Arts Center Chocolate Auction
Where: Lumberyard Arts Center, 718 High St.
When: Doors open for silent auction at noon. Baldwin Children's Choir performs about 1:30 p.m., live auction 2 p.m.
The auction predates the Lumberyard, having been started by the Baldwin City Arts Council with the goal of selling art and chocolate goodies to those looking for a Valentine's Day gift for their significant others. It has survived the arts council morphing into the Lumberyard Arts Center with the opening of that building largely because of the continued support of regulars who donate items annually, Cardens said.
Among the eagerly sought-after chocolate items that keeps auctioneer Lester Edgecomb alert during bidding is Mary Jane Chubb's chocolate meringue pie. Chubb has made donating pies a tradition since her brother in law and late sister, Tom and Alice Russell, introduced the auction to Baldwin City.
Lumberyard board member Laura Dickinson said other returning traditional food donors include Judith Tanner and her chocolate pecan Dixie pie, from a recipe tracing to her Southern roots, and Ruth Ann Nutt's chocolate punch, which will once again be served at the auction's refreshment table.
Overall, commitments for chocolate items have been solid and she expects the final number available Sunday to be in the range of the 102 donated last year, Dickinson said.
Artists have also stepped up with donations, Cardens said, but added one local artist was still undecided.
"I don't know if I'm going to donate a painting or cook something," she said. "I'll probably do both."
Many of the artists will be familiar with those who have attended past Chocolate Auctions or gallery shows at the Lumberyard, Cardens said. They will include Vinland's Steve Graber, who had a fall one-man show of mixed-media works at the Lumberyard, his wife, Roxann Graber, Kathy Bourgeois, Paul Knapp, Linda Everett, Walt Bailey, Rosemary Murphy, Roma Earles and the jewelry of Janey Greene.
This year, some of the smaller works and pottery will be part of the silent auction, Cardens said.
There will be one break from tradition. The Baker University Voice Choir, which has provided the entertainment the past two years, will give way this year to the Baldwin City Children's Choir. Cardens said the choir will entertain before the start of the 2 p.m. auction.
"We want to keep things fresh," Cardens said.