Baker president, husband to be honored at this year's Chocolate Auction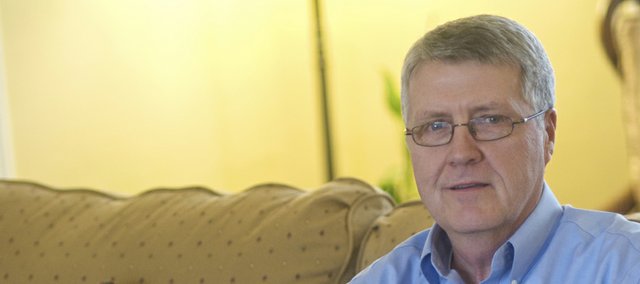 Dennis Long had an evening planned Thursday, which included a quick meal at a ballgame with his wife, Baker University President Pat Long.
"We'll have hot dogs at the game in Olathe, " he said. "If I'm lucky, I get to see her for dinner two or three times a week. Sometimes, her schedule gets really hectic, and we don't get to see a lot of each other.
"When Pat was named president, Dr. (Dan) Lambert (Long's predecessor as Baker president) said it would be a 24/7 job. We thought 'sure.' We found out it's pretty close to that. It's a big job."
There are work opportunities, primarily ballgames, concerts, plays and other campus activities, which give the Longs the opportunity to be together.
"Those have kind of been our dates," Pat Long said. "Luckily, we both love sports, and we enjoy watching the students perform in plays and concerts. We can sometimes get away for a dinner after games."
The activities also afford Dennis the chance to witness an element of his wife's job at which she excels.
"Pat is so good with names," he said. "She knows all the students by name on this campus. She loves students, and they seem to love her."
Pat Long became Baker president in 2006. Accomplishments during her years include raising funds for and the completion of the $10.3 million Ivan Boyd Center for Collaborative Science Education and last summer's Harter Student Union renovations.
Her husband has found a role in the community, too, Pat Long said.
"Dennis has taken on a role of doing things behind the scene," she said. "He was on the Community Wellness Committee the first few years, and he has helped community organizations develop websites."
It's a community niche that fits his far different personality.
"I'm kind of an introvert," the retired electrical engineer said. "I prefer to stay out of the limelight. I'm kind of a computer nerd. On the side, I've helped develop websites for nonprofits. I helped people out with computers, also pro bono. I enjoy it. I like tinkering with computers."
The Lumberyard Arts Center, a nonprofit that benefitted from his volunteerism, will honor Pat and Dennis Long at the art centers' annual Chocolate Auction from noon to 4 p.m. Sunday.
"Dennis has been doing our website the past several years after he developed it," said Lumberyard board member Sandy Cardens. "That was critical for us to get word out to the community about our programming and activities.
"He never has asked anything for it, and he is always receptive to all we ask. He's an incredibly nice man."
The Chocolate Auction is always scheduled near Valentine's Day, which makes it appropriate to honor the Longs and their close, supportive relationship, Cardens said.
The Longs' different personalities first meshed in a high school classroom.
"We were in algebra 2 class together at Wheatland (Mo.) High School," Dennis Long said. "It was a small school in a town of 300 people. There were 13 in my class and 13 in hers.
"She had very humble beginnings. She was the first person in her family to get a college education."
Dennis said they married in 1972, soon after he started college, and Pat traveled with him on his military posting in Germany.
"She taught GIs preparing to get their GEDs," he said. "That's where she first found her love of teaching."
Dennis worked for 26 years for Honeywell International Inc. in Kansas City, Mo., and proudly watched as Pat scaled the career ladder that would eventually lead to her being named Baker president.
"It was a little miracle for her to get this job," Dennis said. "It was like winning the Super Bowl. There are so few university president positions and so many who apply for them."
The Longs will say goodbye to Baldwin City, at least on a full-time residential basis, with the end of Pat's eight-year tenure as university president on June 30. The couple will then return to their roots with their two cherished dachshunds to a home they built about 30 miles south of their hometown.
Dennis said retirement would be an adjustment for his wife, even if it included some continued involvement with Baker through new President Lynne Murray.
"She can't relax," he said. "It will be different. I'll try to help her with it. We plan to do some traveling. We've bought a fifth-wheel trailer and pickup."