Baldwin girls claim 3rd-place game in Wellsville tourney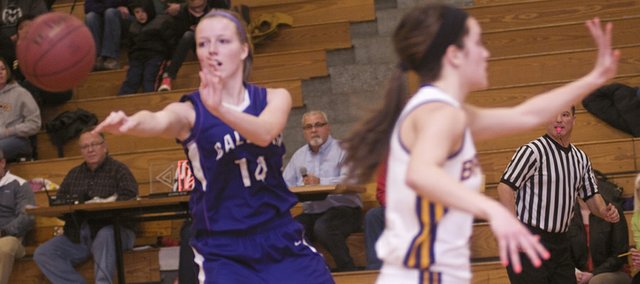 Wellsville — The Baldwin High School girls claimed third place in the Wellsville Top Gun Tournament on Saturday with a 53-42 victory against Spring Hill.
The Bulldogs revenged a loss to Spring Hill from two weeks earlier in which the Broncos came back from eight points down in the game's last three minutes. Baldwin was likewise stung in the tournament's quarterfinals Thursday after surrendering a 10-point third-quarter lead in a loss to KC Piper.
On Saturday, Baldwin led, 28-14, at the half and withstood Spring Hill's third quarter charge, which cut the lead to 32-28 with three minutes remaining in the period. The Bulldogs pushed the lead back to 37-28 at the end of the third and kept a seven- to 12-point cushion throughout the final period.
Baldwin 53, Spring Hill 42
Baldwin 16 12 9 16 - 53
Spring Hill 10 4 14 14 – 42
Baldwin scoring: Maddie Ogle 14, Madeline Nuefeld 2, Katie Jones 12, Corey Valentine 9, Alexia Stein 8, Hailey Cope 8
Spring Hill: Lilly Smith 13, Sydney Cluck 3, Annie VanZant 12, Abby Mikesell 6, Shelby Baker 8